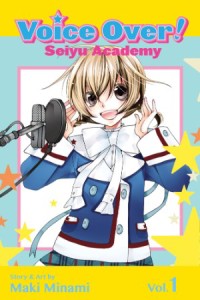 Title: Voice Over! Seiyu Academy volume 1

Story and Art: Maki Minami
U.S Distributor: Viz Media
U. S. Release Date: Oct. 1, 2013
Genre, Format and length: Shojo manga,
Overall Personal Rating: B-
Synopsis:
Voice Over begins with Hime Kino just starting to attend Holly Academy. Although the school has many programs, she is there for its well known voice acting program. Since she was little, she has wanted to be a voice actor, specifically to become a character for the anime Lovely Blazers. See, when she was young she met Sakura Aoyama, one of the actors for the show and this became her inspiration. Now at the new school, things aren't going as smoothly as she planned.
Hime, along with three other students who haven't kept up with the rest of the class, end up in a group with extra lessons because they aren't mastering their skills. It turns out the voice acting is more complicated than she expected. One of Hime's problems is her voice! When she tries to act the cute voice she would need for being a Lovely Blazer just isn't something she can do. She sounds more like a guy or a gorilla. It is such a problem that when she gets offered a part, it is for a male role.  Is she willing to give up her dream in order to learn and get a job?
Commentary
I was glad to have a new series to read. Lately it has all been waiting for the next volume of the many series I'm in. Voice Over is primed to be a cute series and Hime makes a great, although somewhat typical girl character. She longs to be cuter and is a bit unlucky, but as she works toward her goal, she is enthusiastic and isn't giving up.
This first book was heavy on the setting up of the series and it didn't flow smooth enough. Some of it seem forced or too rushed, leaving me unattached to the characters. I do like the setting. I like the idea of stories taking place in the field that produces them (For example: Manga about the manga industry; I'll give it my all Tomorrow and Bakuman.) Now that the basic information is all laid out, there will be more time for serious story development.
Visually, Voice Over has a nice consistency with lots of tone and clear lines, which is a style I prefer. Hime has that cute school girl look with the giant eyes. The guys are styled in the current trend of the tall lanky guy with his hair falling over his face. The costuming and details help add to the fun and the characters. The look of the series is definitely one of its strongest points.
The gender bending element of the plot is tucked away in Hime's voice. She so wants to be cute in looks and voice, but the truth is that her gruff voice is appearing to take her in a direction she wasn't counting on. This is where the comedy comes from and we will see where is will all lead.
Overall Grade:  B-