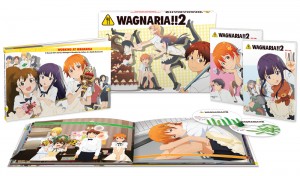 Title: Wagnaria!! 2 (Working) Premium Edition
U. S. Distributor:NIS America
U. S. Release Date: 2-4-14
Format: Blu-ray/13 Episodes / 312 Minutes with book
Genre: Comedy
Age Rating: 13+
Overall Personal Rating: A-
The staff and their quirks at the Wagnaria restaurant serve up the comedy.
Synopsis:
Papua is worried about not growing. She is so short she is always  getting called cute and being patted on the head. Many people think she is in grade school or something but she is 17. This of course sits well with Sota who absolutely loves all things cute. When it is time for her to focus on school, the others worry about not having her around.
Yamada is always trying to belong and have connections, she talks about it constantly; trying to get people to pay attention to her, finding her brother or trying to get Ootoo to adopt her. She will even come out and asks for someone to spoil her.
Inami still has a problem being around guys, but Sota has been assigned to her and is really working hard to help her overcome it. She is getting better but still, he is the one who gets punched whenever he gets too close. Even so, he hasn't figured out that she has a crush on him.
Ootoo still is working on finding his wife. He rarely shows up to the restaurant to do some paperwork. Turns out someone else had found her but only for a few minutes.
Sota isn't exactly happy all the time, is he over worked?  Not only has to watch Inami, but one day his little sister comes to spend the day at the restaurant . She may be young, but she shines compared to the slackers. His older sister sometimes shows up but she acts the opposite, focused on finding a date. Then, he finds a cute little girl lost in the parking lot…
Manager calls in two of her old gang members to fill in one day when two of the staff are sick. They are very loyal and enthusiastic subordinates, but as siblings, they are at each other's throats.
Commentary:
Wagnaria is definitely a fun comedy. It is like a sitcom and you really don't need to have seen season 1 to jump in and enjoy this comedy. Even if you missed the initial introductions, it seems easy to pick up on their individual characteristics that the comedy centers on. I have not seen the first season but I did check out some story and character information before I watched so that I was familiar with the characters. This was only subtitled, so that will cut out many people who could have really enjoyed this.
The series takes place in a normal, typical restaurant  It is about people working in a restaurant developing odd sorts of friendships and crushes because of proximity. This was a fun and likable cast. Most of the show's elements revolve around the characteristics of the cast members. Everybody's quirks influence how they interact, but everyone seems to put up with all the oddities and really depend on each other. After all, they do spend a lot of time together. The exaggerated comedic trouble was not dumbed down but only played for effect. Skit after skit kept on rolling into the next.
Having worked in the business, I loved seeing the background, there was so much that really is part of working at a restaurant even down to the tape holding the list on the stainless steel freezer door. The scenery and backgrounds were great, yet they never overpowered. I really liked the overall look of the animation, from the color to the style of the people.
I had heard this series was good and it didn't disappoint my expectations. Wagnaria is a well animated, fun and light-hearted comedy, with enough cute to satisfy but not overdose, for nearly everyone to enjoy.
Extras: The full color art and episode guide is fantastic.
Overall Grade: A-