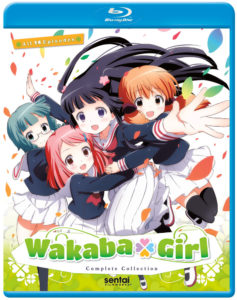 review provided by Katie and Andrew
Title: Wakaba Girl: Complete Collection
Director: Masaharu Watanabe
Studio: Nexus
Author: Yui Hara
U.S. Distributor: Sentai Filmworks / Section 23
U.S. Release Date: December 20, 2016
Format and Length: Blu-ray / 14 Episodes / 112 Minutes
Genre: Comedy, School Life, Slice of Life
Industry Age Rating: 14 and up
Overall Personal Rating: B+
Similar Series or Titles to Check Out: Kiniro Mosaic, Lucky Star, and Is the Order a Rabbit?
Synopsis:
Even though her ridiculously wealthy family tries to give her everything, it is not until the sheltered Wakaba Kohashi fails to get into an upscale school that she finds what she really needed: a group of friends who want to know the real her, and not her status.
Her new school mates may not be up to date on haute couture, but Wakaba is enthralled by their knowledge about the outside world, including the flashy "gyaru" fashion. Soon, Wakaba is helping, or trying to help, her newfound friends with their newfound high school girl problems.
From helping innocent Moeko though gymnastics, standing in for Nao in a beauty contest, and inadvertently helping Mao act like a rich girl, to simply enjoying the joys of girl talk and sharing ice cream, there's a whole new world of everyday wonders waiting to be discovered in Wakaba Girl: Complete Collection!
Commentary:
One of the latest entries into the cute girls doing cute things genre, Wakaba Girl: Complete Collection is about a dim-witted, spoiled, socially inept, rich girl, who seems to have a lot of difficulties making friends. Having little knowledge in speaking to normal people, her aristocratic up-bringing, constant moving, and sheltered life have contributed nothing but difficulty in grasping the realities of normal everyday life. Being in class she manages to get surrounded by a group of three other girls that give her a chance, and teach her what she needs to know, by doing normal every day things that most people do with friends after school. The individual episodes are very cute, and short, lasting a total of seven minutes each. The show does a good job in the short spans of its episodes. One thing when you make a series so short is the difficulty involved in developing characters and story. Keeping it somewhat episodic does help with the story. As for developing characters, they actually did a real good job in the short time they had. Each of the three girls got an episode where they took the spotlight, revolving around Wakaba of course, but it was enough to make the characters feel real and to show individual personalities. They all did fall into classically defined archetypes, but it worked well. The activities were real simple, things you did with your friends after school, but helped to move everything along. They also developed a decent amount of comedy in between it all.
Extras:
Wakaba Girl: Complete Collection includes clean opening and closing animations and Sentai Filmworks trailers as special features. This series was released with Japanese with English subtitles as the only language option.
Overall Grade: B+
Definitely a good addition to the collection of anyone that loves the "cute girls doing cute things" genre.