Deprecated
: Function create_function() is deprecated in
/home/animeggr/public_html/wp-content/plugins/wp-spamshield/wp-spamshield.php
on line
2033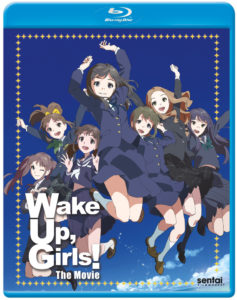 Title: Wake Up, Girls!: The Movie
Director: Yutaka Yamamoto
Studio: Ordet x Tatsunoko Production
Author: Touko Machida
U.S. Distributor: Sentai Filmworks / Section 23
U.S. Release Date: June 7, 2016
Format and Length: Blu-ray / Movie / 52 Minutes
Genre: Drama, Music, Comedy
Industry Age Rating: 13 and up
Overall Personal Rating: B+
Similar Series or Titles to Check Out: The iDOLM@STER, Tari Tari, AKB0048
Synopsis:
In Wake Up, Girls!, Green Leaves Entertainment is in the worst situation any Talent Management Agency can be in… they have absolutely NO talent! Desperate for an act, President Junko Tange targets the idol singer market and gives her flunky assistant Matsuda his marching orders; get a girl group to manage, even if it means building one from scratch!
Since complete singing groups rarely appear out of thin air, Matsuda's now in the difficult position of having to find girls with the right skills who don't already have contracts with Japan's music industry. That girl at the Maid Café? Good enough! A lead singer who's been fired from another group? Sure, why not? How about one who's only 13 years old? What could possibly go wrong there?
They may not be on the A-list, the B-List, or even the C-list to start, but with a little love and a whole lot of hard work, it's possible that all Japan may someday wake up to the music of Wake Up, Girls!
Commentary:
Idol based animes are normally very stereo-typical and all usually about the same. I was not expecting anything special from Wake Up, Girls!: The Movie. Just the same old tired "I'm gonna be an idol and it's really very easy to do", is basically what I expected. What I really got was a lot more powerful and telling story, and yes, an actual storyline, of the difficulty, heart-break, deception, back-stabbing and the joys of success when you follow your dreams. The story quickly draws you in with the feelings of failure, and a person in denial. The story quickly takes a change as the president of a failing talent business, desperate for the next big break, any break actually, to save her failing business. The story, with a very realistic feel to it, dives deeper in as they try to recruit, and train and everything else you have to do to achieve what you want. As the story progresses you begin to notice that failure is a very real option, and that with strife, people can turn their backs on you and leave you with nothing. I was quite surprised by the depth of the story they started to develop, in such a short time. But it did not end really. There was a lot left unanswered, and a lot of the story yet to be told. It felt more like a prequel than the whole thing.
Wake Up, Girls!: The Movie can basically be summed up as the 52-minute first episode to the anime series of the same name. It perfectly sets the stage for the anime series and at the end of Wake Up, Girls!: The Movie I was hooked. Hopefully the anime series gets released soon. This was a strong start. The characters had some basic development, as much as you can in such a short time, but more than enough to start everything out. You really can identify with them and all they do. I can't wait for the rest to come out, to answer any questions I have left. One major one which I am curious is each character is named after her voice actress and you have to wonder if this is some kind of autobiography of these voice actresses. Hopefully there is an explanation to come.
Extras:
Wake Up, Girls!: The Movie includes clean opening and closing animations and Sentai Filmworks as special features. This series was released with Japanese with English Subtitles as the only language option.
Overall Grade: B+
Wake Up, Girls!: The Movie is the perfect inside look into the "Idol" culture of Japan. If you enjoyed The iDOLM@STER or Tari Tari then I strongly recommend giving this movie and the upcoming series a try.