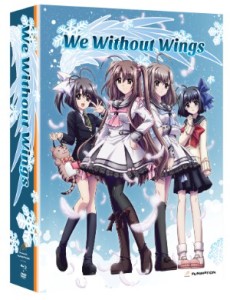 Review provided by Katie K.
Title: We Without Wings – Under the Innocent Sky
Director: Shinji Ushiro
Studio: Nomad
Author: Takamitsu Kouno
U.S. Distributor: Funimation
U.S. Release Date: October 8, 2013
Format and Length: DVD/Blu-ray Combo Pack / 12 Episodes plus 1 OVA / 300 Minutes
Genre: Comedy, Romance, Drama, Ecchi, Harem, Psychological
Industry Age Rating: 17 and up (nudity and fan-service, plus more)
Overall Personal Rating: D
Similar Series or Titles to Check Out: Colorful, Qwaser of Stigmata, Rosario Vampire
"That the world may know peace…" "Ya wench!"
Synopsis:
Takashi Haneda has a secret he cannot speak of, wanting to escape his dull school-life to another world. However, he is stopped by feelings for people he has in this world, his awkward younger sister Kobato, and Asuka his girlfriend in word only. Shuusuke Chitose is a happy go lucky part time employee at a gimmicky restaurant and free-lance writer for a men's magazine. One day, he has a disastrous first encounter with Hiyoko Tamaizumi. The next time they meet, Shuusuke discovers that they are fellow employees at the same restaurant. Hayato Narita is a loner, street smart, ex thug who does handyman work and occasional odd jobs for underworld syndicates. He is normally annoyed by people, but when night falls, that all changes with random encounters with two gangs and a girl with a uniform fetish named Naru, and Takashi's sister Kobato, in cat cosplay.
How will relationships with all these girls greatly affect these three young men, and what exactly is the relationship they have with each other? Throw in excessive amounts of fan-service, random humor, an alternate medieval world, the Japanese view of hip-hop and gangland, and of course the narrator DJ Condor, blaring from the 80's style boom box, and you get We Without Wings – Under the Innocent Sky.
Commentary:
We Without Wings – Under the Innocent Sky was an interesting experience to say the least. The story line  is an attempt to put a new twist on the harem genre, adding a psychological aspect normally reserved for more serious genres, and at first glance, looks real interesting and full of potential. Three guys, leading three completely separate lives, all linked together (can't elaborate more without spoilers). They all work to pursue their own goals, relationships, and living life the best they can, while in control. Everything they try to cover is a wide range of subject matters, including but not limited to; anti-social behavior, fantasy worlds, the pain and uncertainty of life, murder, suicide, schizophrenia, domestic violence, gang violence, societal issues, bad rappers with absolutely no ability to flow or keep a beat, and of course fan service in every aspect of every scene possible under the sun.
We Without Wings – Under the Innocent Sky is based on a graphic novel/eroge game put out by Navel. The majority of game based animes have a common theme, they don't make good series. This series has a plethora of cute girls, giving every inch of fan-service possible, in all age ranges, including a couple that are much too young to be showing "their stuff". They all have their own, somewhat distinguishable personalities, which strictly fall into cliché patterns. Every fetish is basically covered. And for those who want more than fan service, there is episode #8. Back to my original point though, that the majority of game based animes have a common theme of not making a good series, this anime is no exception. The story was flat, incoherent, and actually painful to watch at times. It often was hard to link one action to another, even when following only one of three character paths. They did try to make up some short comings with humor but sometimes it felt they were trying too hard at it, and at those times, the jokes simply fell flat. The only thing it did have to offer was the fan service, which quite often went too far, and even got the indignation of a battle-hardened ecchi fan. Everything you need to know about this anime can be seen in the first couple episodes. If you can handle it, you may make it through, and have some appreciation for it. The ultimate issue with this anime is they try to squeeze too much into the story. Attempting to do so in a twist to the harem genre, though a noble attempt to make it deeper than your standard one lucky idiot attracts several girls and then his awkwardness ensures comedy. Though it may have worked better if they didn't have to do it all in eleven episodes, not counting the fact that they wasted the first episode completely. Maybe they could have spent more time on the story, explaining how it got to where it did in the end. Oh and a couple final notes, I would like to see a gag on Miyako when she is acting like she is overdosing on caffeine. Also almost everyone in this series has some sort of psychosis. Episode #8 part 2 is a full blown hentai scene. And episode 00, the traditional cliché beach/hot spring episode found in all harems, is quite interesting in itself, opening with a yaoi scene, and proceeding pretty much as expected from that point forward. Viewer discretion is advised.
Extras:
We Without Wings – Under the Innocent Sky special features include commentary for episodes 4 and 8, textless opening and closing animations, U.S. Trailer, and Funimation Trailers.
Overall Grade: D
We Without Wings – Under the Innocent Sky went a bit far with the fan-service for my taste and it also had no plot cohesiveness.
"In The Radius":
Colorful, Qwaser of Stigmata, Rosario Vampire all include ecchi scenes. If you like ecchi then I recommend these animes for you.