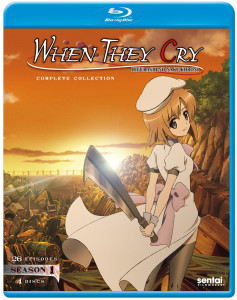 Review provided by Andrew and Katie
Title: When They Cry: Complete Collection Season One on Blu-ray
Director: Chiaki Kon
Studio: Studio Deen
Author: Ryukishi07
U.S. Distributor: Sentai Filmworks / Section 23
U.S. Release Date: March 15, 2016
Format and Length: Blu-ray / 26 Episodes / 650 Minutes
Genre: Horror, Mystery, Psychological, Supernatural, Thriller
Industry Age Rating: 17 and up
Overall Personal Rating: A+
Similar Series or Titles to Check Out: Elfen Lied, Another, and Future Diary
Synopsis:
Moving to the picturesque town of Hinamizawa is going to be a big adjustment for Keiichi Maebara. For all its beauty, it is also very small, so small that there's only one school, one where most of the students have known each other all their lives.
Fortunately, he soon meets four girls… Rena, Mion, Satoko, and Rika, who are willing to let the new guy in town join their afterschool club. And for a while, things seem wonderful. Until Keiichi starts discovering strange things, like when the project manager for a controversial dam project was found dismembered five years ago.
As he digs deeper, there are whispers and rumors of other murders and disappearances, stories of a town curse, and mysterious rituals. And then people he knows start to die. What secrets have the people of Hinamizawa kept hidden from the rest of the world? Could his new friends somehow be involved? The shocking answers to these and other questions will be revealed in When They Cry: Complete Collection!
Commentary:
When They Cry: Complete Collection epitomizes how you should never judge something by its cover. It looks like a simple, generic harem series at first glance; however When They Cry: Complete Collection is anything but that. When They Cry: Complete Collection is nothing short of genius and the whole setting, atmosphere, and mood are incredibly well executed. The plot may seem simple at first with a new kid moving to a strange, new town and meeting new friends but beneath the exterior appearance of this seemingly tame series lays a dark story of murder, violence, and mystery.
When They Cry: Complete Collection has a plot that consists of arcs. Although these arcs seem disjointed at first, it is all part of the plot and is actually an important part of solving the mystery of the Hinamizawa murders. However, When They Cry: Complete Collection is not a simple, generic murder mystery where the solutions are force fed to us. It is up to us to decide between what is true and what is not. This way we think and interact with the story. Each arc has a twisted finish that will leave you saying, "What just happened?".
While When They Cry: Complete Collection is full of mentally instable characters, however they are extremely well written and developed. Luckily, the mental instability of the main characters does not take away from their personality and interaction. Each and every character serves a purpose to the plot in some way, shape, or form so be sure to pay attention to what a character does in different arcs.
The animation was normal for the age of the series but the background animation was breathtaking. The opening and closing songs were amazing and fit the series perfectly. The voice actors filled the series with psychotic laughter, blood-curling screams, and extremely cute voices in order to bring the characters to life.
Extras:
When They Cry: Complete Collection includes clean opening and closing animations and Sentai Filmworks trailers as special features. When They Cry: Complete Collection has both English and Japanese with English subtitles as language options.
Overall Grade: A+
I cannot begin to explain how excited I am that Sentai Filmworks licensed When They Cry: Complete Collection! I hope they release the rest of the series so that we can learn what else happens. I recommend that you watch When They Cry: Complete Collection if you enjoy the horror or psychological thriller genre. You will not be disappointed.