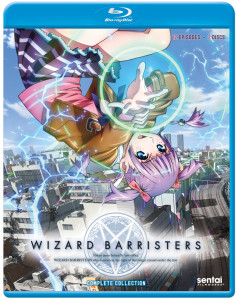 Title: Wizard Barristers Complete Collection on Blu-ray
Directed By: Yasuomi Umetsu
Written By: Michiko Itou
Music By: Kayo Konishi, Yukio Kondoo
Studio: Arms
U. S. Distributor: Sentai Filmworks, Section 23
U. S. Release Date: March 1st, 2016
Format: Blu-ray / 12 Episodes / 300 Minutes
Genre: Supernatural, Action, Drama, Mystery
Age Rating: TV 14
Overall Personal Rating: A-
Synopsis:
When the laws of magic are broken, it's the duty of the Police Department's deadly Section 1 to enforce them. But, since even craven maven Wizards and nefarious Necromancers have the right to a fair trial, the job of defending them belongs to the Benmashi, the Wizard Barristers!
It's a tricky profession, requiring both arcane ability and a judicious sense of jurisprudence, and at just seventeen, Cecil Sudo is the youngest Benmashi that Butterfly Law has ever employed. That means a lot of late nights burning the midnight brimstone, summoning up summaries, parsing phrases with paranormal paralegals and cutting deals with opposing counsels from hell.
And when a young Benmashi starts to discover that her own charm may be more magically-based than she realized, there'll be a hex-tra incentive to work wonders outside the courtroom as well! Every trial is a witch trial as the most enchantingly Adept Attorney ever becomes a Master of the Art of Defensive Spells in Wizard Barristers!
Commentary:
Okay, I know that there are some of you that think I am crazy for giving such a high grade to Wizards Barristers. The truth is that I found it rather appealing. I saw it as a true amalgamation of a lot of anime and western pop culture. Right off the bat I saw Cecil as a new form of Sawa from Kite, and a strange blend of Fullmetal Alchemist along with a health dose of Harry Potter. Cecil is the girl who holds the key and doesn't remember her past. She is destine to be something very special and she is very unaware of it. There are wizards on both sides that want her and she is surrounded by a group of people who are there to be not just friends but protectors too. This series is a interesting blend of  the world of supernatural story telling and if not watched with a curious eye much will be missed.
Overall Grade: A-
Wizard Barristers has much to offer and provides it all in a lively colorful package. The one drawback for me was the animation. I found the computer generated (CG) work to be a little stiff, but with the advances in CG it is easy to watch.
The rest of the series had plenty of light humor tossed in to keep you interested and a lot of dark questions kept coming up that made it a must to watch the next episode. The ending felt a tad rushed and there are some gaps in the plot that I personally would like to see explained in an OVA or a second season. With Wizard Barristers being only an Anime property I just don't see more coming and that is too bad. If you like Harry Potter, Kite and Fullmetal Alchemist then I believe you should enjoy Wizard Barristers. It is worth the time to check it out.