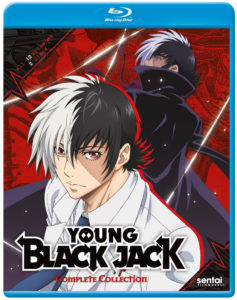 Title: Young Black Jack: Complete Collection on Blu-ray
Director: Mitsuko Kase
Studio: Tezuka Production
U. S. Distributor: Sentai Filmworks, Section 23
U. S. Release Date: Feb. 7th, 2007
Format: Blu-ray / 12 Episodes / 300 Minutes
Genre: Drama, Thriller
Age Rating: TV MA
Overall Personal Rating: A-
Synopsis:
The year is 1968, the war in Vietnam is approaching its zenith, and the counterculture movement that's been sweeping the world is engulfing Japan. While others are in the streets protesting, one young medical student becomes embroiled in a different kind of battle.
As new medical technologies to save and extend lives come into play, the temptation for a surgeon to play God has never been so powerful. Even as he strives to prove his own skills to his colleagues, Hazama Kuroo begins to suspect that the potentials for abuse inherent in the medical system are already being exploited.
To attempt to change the system means risking his own promising career as a surgeon, and to move against the perpetrators will put his own life in danger. However, as a doctor, how can he not act when lives are on the line?
The diagnosis is murder as the origin of Osamu Tezuka's legendary rogue surgeon Black Jack is finally revealed in YOUNG BLACK JACK!
Commentary:
In the world of manga / anime few names take on the cult status that Tezuka does. Even the great Myazaki concedes that Osuma Tezuka was a undeniable force in the 1960s. The one thing that Osuma Tezuka did not do was to give us the rich and dramatic early days of Black Jack. This series produced after the legend has passed is far above anything I expected and stands out as one of favorite characters and stories derived from the Tezuka legacy. Young Black Jack provides plenty of drama and a wonderful dose of excitement.
Overall Grade: A-
If I was on the design staff for this series I would have brought up the one glaring issues with the character development. It has to be the unevenness of the character design. I know that there will always be a group that want to stay true to the strange and somewhat silly character design that is trademark Tezuka, but for this series it would have made more sense to make them all look more contemporary than the silly bulbous headed people that show up in the series. There is an uneven mix of normal looking characters and the silly Tezuka people. All I can do is ask why, it looks silly and detracts from the solid aspects of the anime.
To be perfectly honest I see Young Black Jack as something more than a Tezuka product, but rather a drama that continues to prove that humanity may need to be saved and at the same time not saved. I felt this way with other series like Black Lagoon and Darker Than Black. It just seems that Young Black Jack highlights the futility in our world and that giving all of yourself still may not be enough.
All you Tezuka fans get ready to be overjoyed and everyone else please try to get over the poor character design and look at the series as a whole. You will be very surprised and discover the deeper thoughts that run many anime that relate to a very easter way of thinking. So, be sure to check out Young Black Jack you will be happy you did.