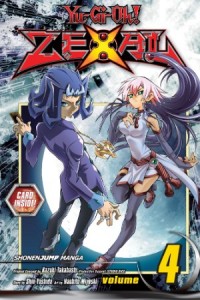 Title: Yu-gi-oh! Zexal volume 4
Author: Story by Shin Yoshida
Art by Naohito Miyoshi
Distributor: Viz Media/ Shonen Jump
American release date: January 7th, 2014
Format: Traditional Manga
Genre: Action, Shonen
Publisher Age Rating: T ( for teen)
Review Rating: B-
Synopsis:
Shark always seemed like a bad guy. But when one of the Numbers Hunters, Luna, offers Shark a position in the group, he barely hesitates before accepting.
Meanwhile, Yuma's friends show him  the headquarters for the Numbers Club. With all of this technology, the club can research all of the events that might be related to the Numbers cards. They also research Shark's past in order to discover why he would join the Numbers Hunters.
Commentary:
Yu-gi-oh! has come a long way. From an island for duelists, to a school dedicated to the study of dueling. Zexal goes back to the original set up. It was refreshing. Although I feel like this group is just too young.  I've enjoyed Yu-gi-oh! since I was young, and now that I'm in my 20's, following the story of 13 year olds just doesn't connect with me(especially because this groups looks like they could be 10 years old).  But the strategy these kids use is along the lines of some real life tournament level players. Compared to the original series (and the previous series), the players follow actual rules. It gives the manga a closer connection to the actual card game, which makes it easier to understand and enjoy.
I started off with the anime, and only pick up the manga when I need something to read. The art style is a bit to detailed in manga format, but works well for anime or in color. The way the characters are is a great example. They are so intricate that to really get their design you need to see them in color.
Overall grade: B-
I quite enjoy Yu-gi-oh! as a series, and Zexal is a good comeback from 5D's. However, it isn't as good as the original series, and I find it makes for a better anime than a manga. But Zexal is still worth the read.