Deprecated
: Function create_function() is deprecated in
/home/animeggr/public_html/wp-content/plugins/wp-spamshield/wp-spamshield.php
on line
2033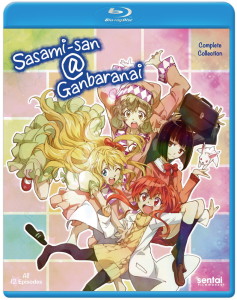 review provided by Katie and Andrew
Title: Sasami-san@Ganbaranai: The Complete Collection
Director: Akiyuki Shinbou
Studio: Shaft
Author: Katsuhiko Takayama
U.S. Distributor: Sentai Filmworks, Section 23
U.S. Release Date: October 6, 2015
Format and Length: Blu-ray / 12 Episodes / 300 Minutes
Genre: Action, Comedy, Harem, School Life, Supernatural, Romance
Industry Age Rating: 17 and up
Overall Personal Rating: C+
Similar Series or Titles to Check Out: The Melancholy of Haruhi Suzumiya, Bakemonogatari, and FLCL
Synopsis:
Sasami Tsukuyomi is a hikikomori, someone who's become so withdrawn socially that they refuse to leave home for weeks and even months at a time. Fortunately for Sasami, her brother Kamiomi teaches at the high school Sasami should be attending; and with her "Brother Surveillance Tool," which lets her view the outside world via her computer, she's trying to adjust to interfacing with people again.
However, her computer mainly allows her to spy on her brother's interactions with the Yagami sisters, who seem to have had their ages reversed and have various types if interest in Kamiomi. And then things start to get really weird… Magical powers? Everything turning into chocolate? Is life via the web warping Sasami's brain, or is it the universe that's going crazy? Sasami may have to take off her pajamas and go out into the "real" world to set things straight!
Commentary:
Sasami-san@Ganbaranai: The Complete Collection is a very strange series but what a fun ride. When I started watching Sasami-san@Ganbaranai: The Complete Collection I could not tell what it was at first. It goes from goofy, to just plain strange, to ridiculous and bizarre. It eventually becomes a character piece instead of the whimsical fun that I thought it would be.
Character pieces need amazing characters and Sasami-san@Ganbaranai: The Complete Collection has some, but it takes a lot of work to bring them out. Sasami is a difficult character to figure out since she seems so weird and detached at the beginning. However, she is actually a strong and willful girl who grows as she comes to make new friends while being just strange enough to make the comedy work. On the other hand, her brother is not as critical to the show as he seems to be in the beginning. There is always something covering up his face and that adds some interest to his character. I believe he is mainly around to creep on Sasami and get smacked around by the characters. Aside from Sasami, the three Yagami sisters add much of the humor. They include a young girl with an adult body (Tama), an adult with a young girl's body (Tsurugi), and a robot girl (Kagami). Tama is ridiculous to say the least but she still is a sweet, innocent child and is also a strong willed presence. Tsurugi is cool and competent while still being silly enough and works in the mentor/guardian role. Kagami always wants to take a nap and is pretty funny. Her fight sequences are amazing and fun to watch.
Shaft's knack for great visuals keeps the series looking strong as the anime looks distinctive and often beautiful. The characters are attractive and the action was fluid. The voice actors did a good job and the music was fittingly quirky. The opening theme is energetic and kind of catchy. The ending theme sequences are kind of fun and the song was cute as well.
Extras:
Sasami-san@Ganbaranai: The Complete Collection includes clean opening and closing animations and Sentai Filmworks trailers as special features. This series was released with Japanese with English subtitles as the only language option.
Overall Grade: C+
Sasami-san@Ganbaranai: The Complete Collection was interesting to say the least and I am hoping for a second season so everything gets wrapped up. We shall see.