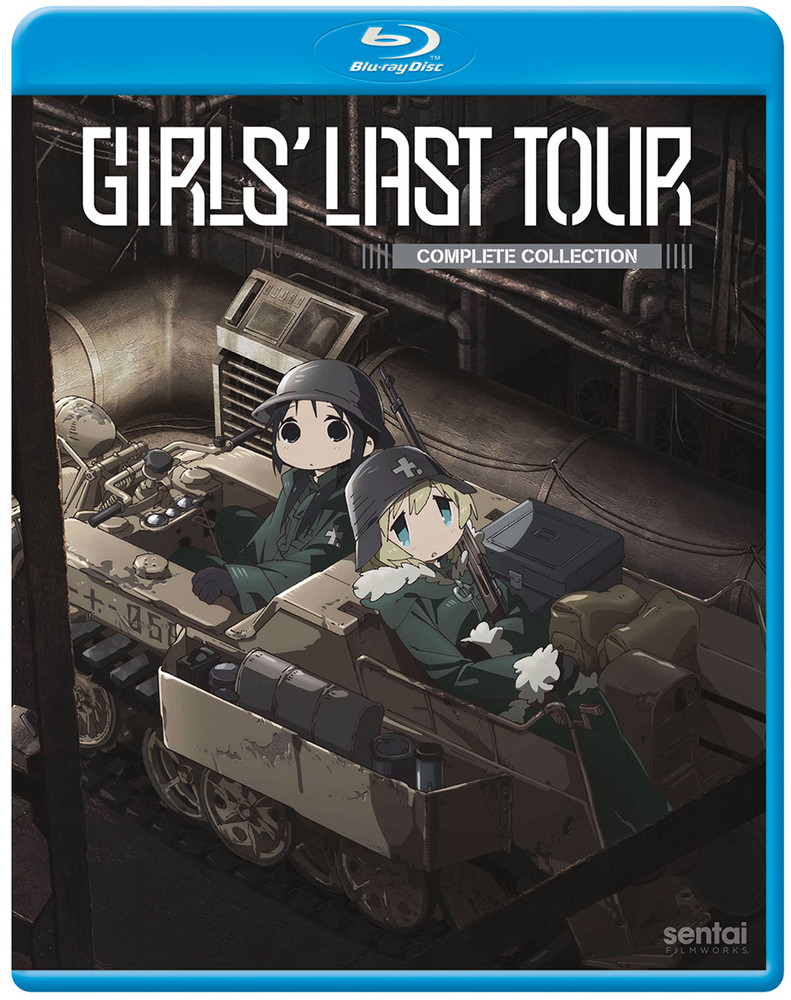 Title: Girls Last Tour; Complete Collection
Director: Takaharu Ozaki
Writer: Tsukumizu
Screen Play: Kazuyuki Fudeyasu
Music: Kenichiro Suehiro
Studio: White Fox
U. S. Distributor: Sentai Filmworks, Section 23
U. S. Release Date: Jan. 29th, 2019
Format: Blu-ray / 12 Episodes / 300 Minutes
Genre: Drama, Sci Fi, Post Apocalyptic
Age Rating: TV 14
Overall Personal Rating: A
Synopsis:
The world we knew is gone. The massive cities, once filled with people, lie silent, empty and decaying. There are no more forests filled with animals; no more birds in the sky. But life hasn't disappeared completely; not just yet.
Amidst the rubble two small figures, young girls, travel together, scavenging what they need to survive as they explore the remnants of a world that they are too young to remember. It's a strange journey, but one that's filled with wonder as each new day brings another discovery, another echo of the devastated past or moment of unexpected beauty. And as long as Chito and Yuuri have each other, they have a reason to keep pressing forward. As long as there's still life, there's still hope for a future.
Commentary:
Sometimes you read a synopsis and ask yourself "am I ready for this?". I asked myself if I was ready for a sad depressing series and with all of those expectations I started watching Girl's Last Tour. I have to admit I was somewhat surprised. The first few episodes really made me think and then as things progressed I began to see the sweet optimism that is infused in the entire series. There is a complex story being told by a simplistic vision and cadence.
These two girls represent two different worlds and both also prove why they need each other. Chito is the cerebral and Yuuri is the physical and together they manage to make a true team that is doing the only thing they can do, keep moving forward. In a world of mystery and possible starvation they find ways to stay naive and strong.
Overall Grade: A
I have always loved series that make me think and ones that take a simple structure to tell a complicated story. Girl's Last Tour won my heart and soul within minutes and keep working on my brain. It took some time before my head joined the team, and it rejoiced with the realization found in the story. Of course each person will have to find their own reality in the series. Who knows what they will find.
Girl's Last Tour is wonderful in much the same way I found Mushi Shi wonderful. That is the quiet way the story is told. there doesn't need to be any great monsters to defeat or a hero's saga to work through to gain the meaningful message being told. Anime and the eastern philosophies tend to lend themselves to a quiet simplistic story telling nature that is rarely seen in the west and most notably in North America. A young culture often looses itself in its own power where as older cultures can look back and be thoughtful in the things they have to say. Girls' Last Tour could have easily been a warriors last battle type of story where these girls have to fight their way past the crazed remnants of humanity just to survive.
Girl's Last Tour is a wonderful anime and for those fans of simple approaches to complexity this one will hit a high note and prove to be more than just wonderful.