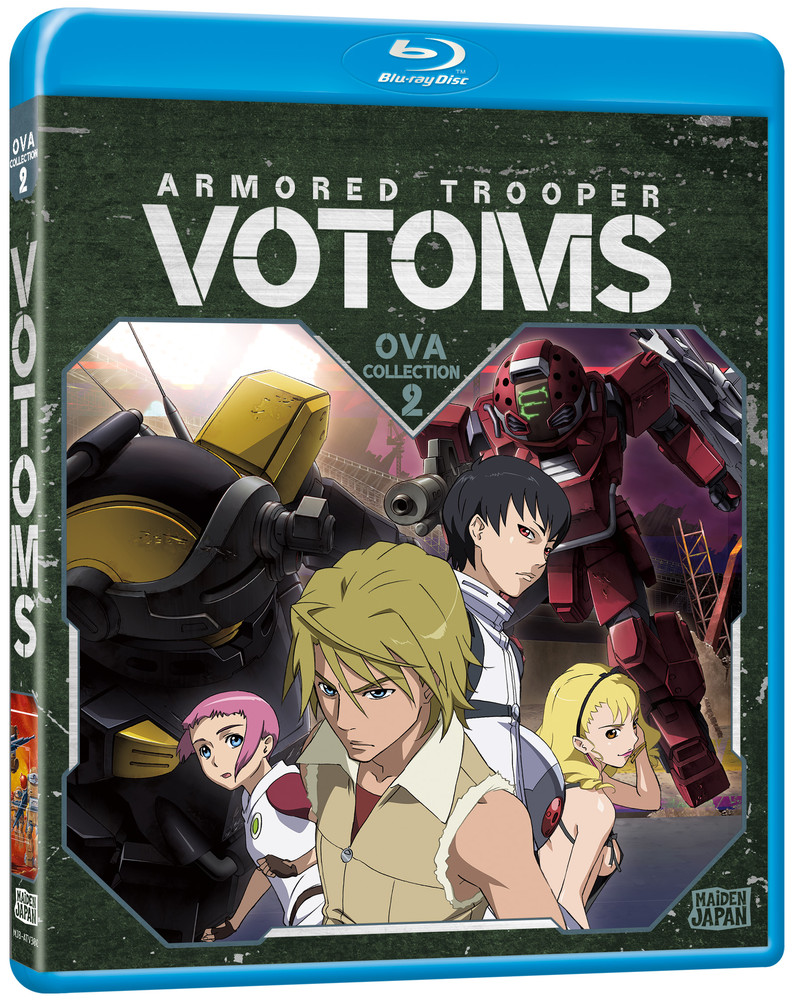 Title: Armored Trooper VOTOMS OVA Collection 2
Director: Ryōsuke Takahashi
Studio: Nippon Sunrise (Sunrise)
U. S. Distributor: Maiden Japan, Section 23
U. S. Release Date: July 23rd, 2019
Format: Blu-ray (Standard Definition) / 9 OVA / 290 Minutes
Genre: Sci Fi, Mecha, Space Opera
Age Rating: TV MA
Overall Personal Rating: C
Synopsis:
Armored Trooper VOTOMS OVA Collection 2 contains 9 OVA episodes including the Genei ~ Phantom Arc, Woodo, Kummen, Sansa, Nulgerant, Cocoon, Infanti, Case; IRVINE VOTOMS FINDER, and Chirico's Return all directed by Shisho Igarashi.
The fires of war don't create heroes, only legions of the wounded and the dead. For a pilot of an easily-destroyed VOTOMS unit, every foray into battle is one more calculated bet with your own life as the prize, another day of cheating death. When your commanding officers send you into a fight that can't be won, or set goals that can only be achieved through massive sacrifice, then a decision has to be made. Are you going to be a hero? Or a survivor? The brutal realism of the acclaimed anime series returns, as men and machines are thrown into the meat grinder of war, in the epic second Original Video Animation collection!
Armored Trooper VOTOMS Collection 2!
Commentary:
Well, I guess that it would make sense that if I wasn't impressed with the first collection that I wouldn't be impressed with the second and honestly I was not impressed. The plot was still rather redundant even if it is an old series and the writing is very heavy handed. I do have to say that I didn't find the melodrama to be as tiresome as some of the early Gundam series from the same time period, but I did feel like I was being hit in the face with a frying pan from time to time.
I wish I could say that I connected with any of the characters and I almost began to care and alas I just couldn't get there.
Overall Grade: C
The animation felt like it was late 80's early 90's work and that is not a time period that showed off the great talent of animators in Japan. What it proved was that most of the studios were sweatshops that just wanted to crank out the series and make money off of merchandizing. Oh, that's right it is still that same in both eastern and western cultures.
Okay, if you take Armored Trooper VOTOMS OVA Collection 2 at face value and add in the fact that this series was produced 30 years ago then you have to tip your hat to it for making it this far and actually managing to be re-released in Blu-ray format. There is a real resurgence in the Mecha genre and many of the oldest series are beginning to see the light of day again. Armored Trooper VOTOMS OVA Collection 2 is one of the better series to come back to life. So, if Mecha is your world then you are well aware of Armored Trooper VOTOMS and will be sure to grab this one. If you are interested in what helped make this massive anime genre the you should at the very least check Armored Trooper VOTOMS OVA Collection 2 out, but be sure to start at the beginning.