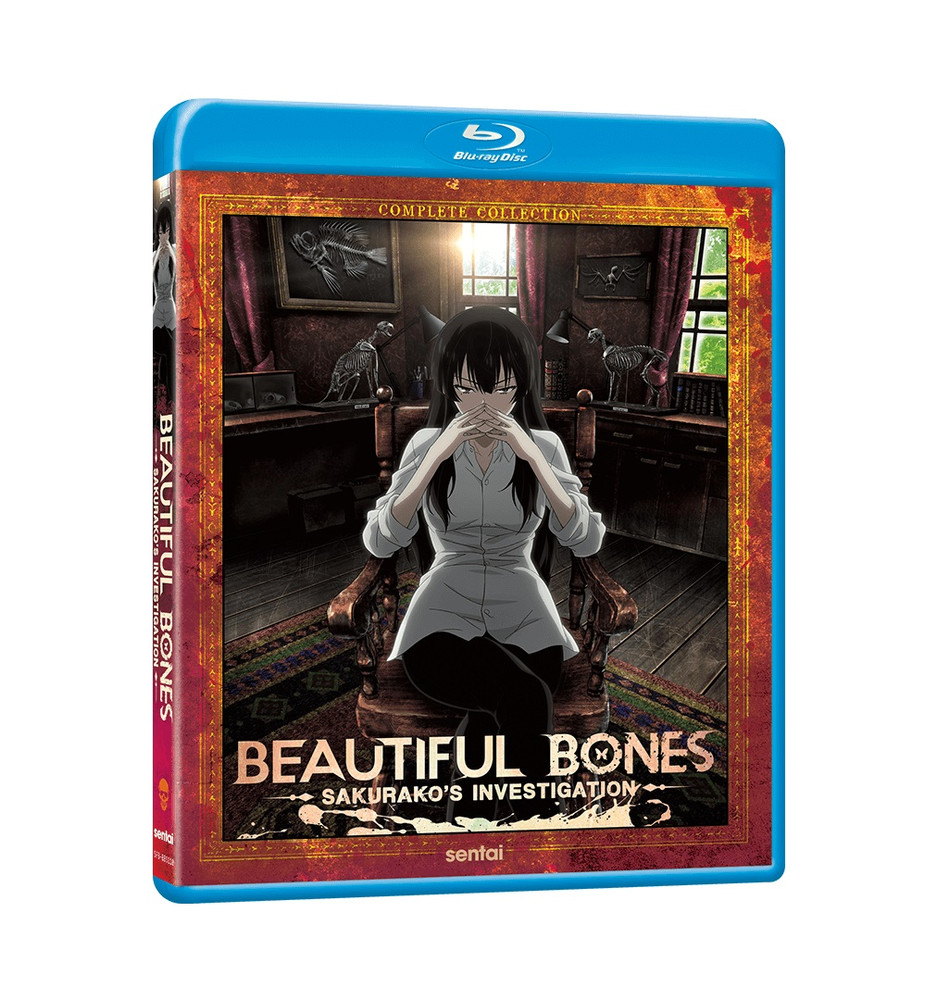 Title: Beautiful Bones: Sakurako's Investigation on Blu-ray
Director: Makoto Katō
Screenplay Writer: Takayo Ikami
Studio: Troyca
U. S. Distributor: Sentai Filmworks, Section 23
U. S. Re-release Date: Oct. 6th, 2020
Format: Blu-ray / 12 Episodes / 300 Minutes
Genre: Thriller, Mystery, Drama
Age Rating: TV MA
Overall Personal Rating: A-
Synopsis:
Most young women have lots of obsessions, but Sakurako Kujo only has two: work and bones… and since the bones are part of her work, it really comes down to just bones. However, in between collecting de-fleshed animal and human remains for her studies, Sakurako also assists the local police as a forensic consultant, where she's developed a formidable reputation as both a corpse magnet and detective.
Assisting her in these tasks is young Shotaro Tatewaki, who is no slouch at sleuthing himself, though his primary task is to keep Sakurako focused (and keep her from occasionally "borrowing" a particularly interesting specimen). If there's a bone to pick, a stray skull to be found, or a random skeleton hidden in a closet, you can trust this team to unearth the evidence in Beautiful Bones: Sakurako's Investigation.
Commentary:
Beautiful Bones: Sakurako's Investigation is a wonderful revival of a 2015 series that was much underappreciated. The story of Sakurako and her ability to understand the crime based solely on the bone or forensics is wonderful to watch. Allowing Shotaro to introduce us to Sakurako is a smart move. It takes us from being average individuals to being brought into a world of a special foresight and understanding of the nature of the world around us.
The strength of the series is the enigmatic Sakurako and her cold nature that gives us a mystery and allows us to follow along for the ride. I do wish they would have made Shotari a little less naive, but his persona plays off well with Sakurako.
Overall Grade: A-
The fact that this is a re-release of a series that came out several years ago is a little sad, but I hope that the reintroduction will allow for a new group of viewers to find it. Beautiful Bones: Sakurako's Investigation is a strong series that could only become better if it would have had another season that completed the story that is created in the light novels.
The animation is very good and the voice acting is done with a solid understanding of the characters needs, but much of the series is lost with so much of the focus on Sakurako. The writing and direction was a little narrow.
So, if you are looking for a wonderfully rich drama for this halloween season but don't care for horror then Beautiful Bones: Sakurako's Investigation should be at the top of your list.