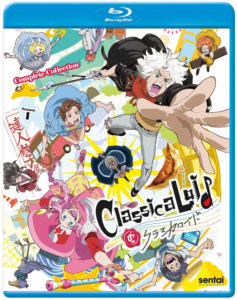 Title: ClassicaLoid on Blu-ray
Publisher: Sentai
U. S. Release Date: April 24, 2018
Format: Blu-ray / 25  Episodes / 625Minutes
Genre: Comedy
Age Rating: 14+
Overall Personal Rating: B+
Synopsis:
Kanae is in in high school, but she doesn't have much time to focus on that. See, she is left alone in her grandmother's big mansion. Although her dad is still alive, she doesn't know where he is and only has limited and sporadic contact with him since he works at some mysterious job. At a loss as to what to do to maintain the old home, she decides to sell it all. So, she is surprised when "Mozart" shows up intending to take a room there. A stoic and intense man, he is soon contrasted by "Beethoven" who is crazy and free spirited. The magic begins to happen when the house is about to be torn down by the people buying the mansion, and in their emotional state, the two new squatters unleash a powerful musical energy that's unearthly- what they call Musick.
As things progress, Kanae and Sosuke (her wannabe musician friend) are surrounded by additonal well known- apparently reincarnated?- Classical composers. Beethoven refers to them as "Loids". Kanae almost seems to expect the strange things to happen, and so just goes about taking care of the house and hoping all the residents of the now rooming house will actually pay rent or do their share of the work.
Odd as all the Classical Loids occupying house is, there is a mystery at work. What are they exactly, they don't seem to know or at least admit they know, and what is the purpose of their sudden appearance. Kanae's father appears to be connected to the confusion but he is as uncommunicative as ever, as we wait for the world to experience profound change…? Bach, what are you up to?
Commentary:
ClassicaLoid was fun to watch. I enjoyed the story elements of Classical music twisted into the unexpected. The characters became unique because of the mash of historical with pop culture. While Shubert was on the historical side, Beethoven went all the way to pink pop. Really a fun mix.Since overall this is a comedy, there was plenty of humor. Some dry, some slapstick. But there is also a good building of friends and relationships.
ClassicaLoid has the blend of "here is our comedic life" and "something mysterious/serious is hidden".  It's one of those common combos in comedy anime like Chobits, Tamako Market or Love Hina. (If you liked any of those, I think you'll like ClassicaLoid) I always find this it be rough in blending together, even unnecessary, but I suppose it does add a complexity that in all makes it more interesting, opening it up to more than the friendship/comedy genre.For me, I would have been happier with the whole thing if we would have just had fun with the characters.
Visually, I like this anime. The well thought out images and backgrounds were secondary to the character creations. And topping both, I thought there were some great special effects. They had to be creative with the scenes depicting the magic of the Musick, and they really delivered. I mean, to visually express music has been attempted countless times, but it is really tough to do. I think ClassicaLoid found a expressive and accomplished way to do so.
I found the story ending satisfying it could all end right here. But I have read that there is a second season. So, you can enjoy this on its own or look forward to a second helping.
Overall Grade: B+  
ClassicaLoid  is one of those anime that is like visiting friends, incorporating a fun mix of old and new by bringing the historical composers into contemporary times, flavored with comedy, sci-fi, and magic.