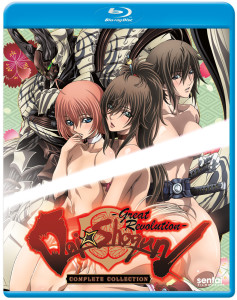 Title: Dai Shogun Great Revolution; Complete Collection on Blu-ray
Director: Takashi Watanabe
Writer: Dai Sato
Studio: J.C. Staff, A.C.G.T.
U. S. Distributor: Sentai Filmworks, Section 23
U. S. Release Date: January 1st, 2016
Format: Blu-ray / 12 Episodes / 300 Minutes
Genre: Harem, Pseudo Historical, Action, Ecchi
Age Rating: TV MA
Overall Personal Rating: B
Synopsis:
In a world where history took a different path, Japan has been isolated from the outside world by steam-powered robots that repel all invaders. Inside Japan, however, the people are divided into feuding and fighting feudal factions. Feisty Keiichiro Tokugawa dreams of changing this and unifying Japan, and he just may be the one man who can use the legendary giant robot Susanoo.
Unfortunately, just touching a woman makes him break out in hives, and the Susanoo ALSO requires a female copilot. In VERY close quarters. And just to twist the katana, while there seem to be plenty of women who might covet the copilot's seat, not all of them have his best interests at heart! Who can he trust? Kiriko the Ninja? Chiharu the fox-demon? Or will Keiichiro's rash ambitions be thwarted by rashes and a totally rational phobia of the female form? It's a giant robot show like no other as the birds, the bees, and the giant robots take flight in Dai Shogun!
Commentary:
Dai Shogun is a series that, simply put, fun to watch. Of course it gets a little lost in the fan service and sexually provocative situations. This is more of a typical harem anime than I expected it to be and it does give us someone to root for other than the bouncing breasts everywhere you look. The story sets itself up for plenty of jokes and some of them are funny but most are rather contrived. Where the series succeeded was in the dramatic aspects and the central love story. Take the dense young man with something to prove and the beautiful, talented, shy woman who falls for his simple boyish charm and make them both virgins who must work together to save Japan. Well, add in plenty of other large breasted women and center the story at a bath house and it equals lots of peekaboo.
Once the series settles in and gets serious about the plot, things get entertaining and much of the sexual tension takes the back seat. This change in posture works, and makes most of the rest of the series worth watching. The writing was strong enough to carry much of the series, but the animation was a let down. It almost as if the series was given a cut rate budget and rather than push the limits, they cut every corner they could. The simple static figures with a moving background left me cold. I would have loved to see someone like Gonzo or even Sunrise animate this series rather than the sloppy work that was done by J. C. Staff.
Overall Grade: B
Now, Dai Shogun isn't for everyone, but for adults it is a series that I think both men and women can enjoy. It has all the great trappings that a solid Harem anime needs and some of the perversion that a light ecchi anime would have. There is plenty of action and a solid moral backbone to the series that does make a difference.
I would have liked to see more background development on a few of the characters, but I understand that not every anime can tell all of the story. The ending is left open in the event some money should come their way, but I fear that some of the failure in the series will leave it destine to be a one shot series.
Anyway, if you want a decent love story that has a lot of action and plenty of well built women in it then Dai Shogun Great Revolution is something you need to check out.