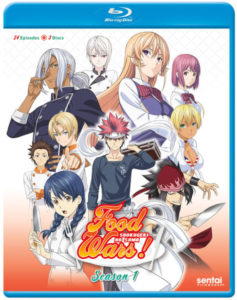 Title: Food Wars: Season 1
Director:  Yoshitomo Yonetani
Studio: J. C. Staff
U. S. Distributor: Sentai Filmworks, Section 23
U. S. Release Date: August 15th, 2017
Format: Blu-ray / 24 Episodes / 600 Minutes
Genre: Comedy,  Food Battle,  Slice of Life, Harem
Age Rating: TV-MA
Overall Personal Rating: A-
Synopsis:
Ever since he was little, Soma Yukihira's main goals have been to beat his father in a cooking contest and take over the family diner. That's why, when his dad suddenly announces that he's shutting the restaurant down and sending Soma to cooking school, Soma is shocked. However, Tohtsuki Academy is no ordinary cooking school.
This elite institution is filled with culinary giants like Erina "God Tongue" Nakiri, who does her best to keep a lowly short-order like Soma from even making it inside the door. However, if the snobs can dish it out, Soma can serve it up, and when he learns that only a handful of the students manage to graduate every year, he swears that the only way he'll leave is as number one!
Commentary:
Food Wars is a show that hit many of the high points right off the bat. The awesome way the eating experience is depicted is a  shinning star of the series. The orgasmic nature of eating food says a lot about how great food is approached by the writers. The fact that they explain what is going on also plays into the greatness of Food Wars. Spending so much time watching Iron Chef and Top Chef along with loving anime such as Toriko and Yakatate Japan I fell in love with Food Wars and having these characters run the gantlet to become serious chefs.
The characters of Food Wars have pluses and minuses. Soma is the biggest plus and Megumi is the weakest one of the bunch. I found it too easy to dislike Erina and way too easy to like Meat-Meat. Soma is more complex and being the star of the series, he has that typical Naruto characteristic of being overly positive with that overwhelming can do attitude. It is sometimes a drag on his personality but is also a rather basic trait for a anime protagonist.
Overall Grade: A-
Most of Food Wars works very effectively, the orgasmic tasting gets rather boring after the 4th of fifth episode and some of Megumi's anxiety attacks are annoying. I think a major positive of the show is the cooking. J. C. Staff did a great job of depicting the cooking process and the talent that goes into preparing food. I loved the way the final dishes were given the spotlight and as a fan of cooking battle shows, I had a hard time not binge watching the entire 24 episodes.
I was transported back to the wonderful world of the original Japanese Iron Chef I just wish the judging was as much fun in the live action battles as it is in Food Wars. I guess I am a little jealous that I have never had a full body experience eating food. I hope season 2 of Food Wars is released soon. If you haven't seen it then you should put on you bibs and get your knife and fork because a full course meal is coming your way.