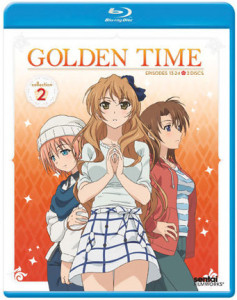 Title: Golden Time Collection 2 on blu-ray
Director: Chiaki Kon
Author: Yuyko Takemiya (Light Novel), Fumihiko Shimo (Anime)
Studio: J. C. Staff
U. S. Distributor: Sentai Filmworks, Section 23
U. S. Release Date: Feb. 3, 2015
Format: Blu-ray / 12 Episodes / 300 Minutes
Genre: Romantic Comedy, Drama, Josei
Age Rating: TV 14
Overall Personal Rating: A
Synopsis:
Adjusting to college life is hard enough for most students, but ever since Banri Tada lost all his memories he's literally being haunted by the spirit of the person he was before the accident. And now that the Banri-that-is has fallen in love with Koko instead of Linda, the girl his old self was in love with, the ghost of the Banri-that-was is stepping up its efforts to sabotage his new relationship with every power at its disposal.
Since past-Banri can sometimes take over present-Banri's body, the entire life new-Banri has built is now in imminent danger of being blown away like a house of cards in a whirlwind. That doesn't even take into account Linda and Koko's feelings, let alone those of Banri's friend, Mitsuo, who Koko was formerly in love with, but who now has a thing for Linda – at least, when he isn't crushing on Chinami. And if that sounds confusing, it's nothing compared to how Banri feels as his old memories begin to resurface and the ultimate battle of Man Vs. Himself escalates!
Commentary:
Golden Time Collection 2 wraps up this outstanding series. Being an old soft when it comes to love stories I found Golden Time very satisfying. It takes you on a journey of discovery when it comes to the elusive beast know as true love. I know we have all felt like we are in love with someone and that feeling was presented early on, but as the series progresses it begins to explore the part of love that isn't natural, but instead the aspects that must be learned. Being in love with a person is easy, but loving them and making sure they know it isn't so easy and it is clearly demonstrated between Barni and Koko.
Other than the way in which this love story develops there is the relationships between friends that is also explored. There are some very real moments that both make you think about your own relationships, make almost off of the characters in the series very believable and sympathic. The fact that Golden Time walks a fine line between a sappy over the top love story and the melodramatic real life collage age drama helps make it both entertaining and somewhat realistic.
Overall Gade: A
Golden Time collection 2 is a heart warming love story that feels like it could go several different directions and in the end delivers a result that is extremely satisfying. You really don't know which way Barni's final relationship will go which I found to be realistic to a point. I think that the memory loss aspect to the plot made it very easy to wind through the possibility that he could possibly love two people and at the same time added some dramatic focus on the characters that was in many ways very unrealistic. That is what anime does and I think it hep keep Golden Time on step above the many slice of life / love stories that are out there.
I know that most people go to Clannad she they think about a solid love story, but much of Clannad is way to day to day and boring, but Golden Time adds the magic early on with the memory loss tension and how it intertwines throughout the series. There are also well written supporting characters that keeps the series solid and easy to watch.
If you are looking for a series that is a tear jerker that keeps you wondering all the way through I think you should give Golden Time a chance. It should also be noted that Golden Time collection 2 does a great job of wrapping the series up and providing closure and hope whereas other series just make you cry because that is what they want you to do.