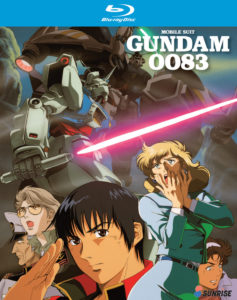 Title: Gundam 0083 Stardust Memory & Afterglow of Zeon Film on Blu-ray
Directors: Mitsuko Kase (eps. 1-5), Takashi Imanishi (eps. 2-13)
Writers: Fuyunori Gobu (eps. 1-4), Akinori Endo (eps. 5-6), Asahide Ookuma (eps. 7-8, 10, 12-13), Ryōsuke Takahashi (eps. 9, 11)
Studio: Sunrise
U. S. Distributor: Right Stuf
U. S. Release Date: April 4th, 2017
Format: Blu-ray / 13 Episodes & film / 444 Episodes
Genre: Sci Fi, Mecha, Drama
Age Rating: 14+
Overall Personal Rating: B
Synopsis:
Mobile Suit Gundam 0083 contains episodes 1-13 of Stardust Memory plus the Afterglow of Zeon compilation film.
Universal Century 0083. Having triumphed in the One-Year War, the Earth Federation has grown complacent, while the last remnants of Zeon forces have been planning one final stand. It all hinges on ace Zeon pilot Anavel Gato stealing one of the new prototype Gundams out from under the Federation's nose. With a nuclear-equipped Gundam missing and their pride wounded, the Federation ship Albion and rookie pilot Kou Uraki set out in pursuit of the Zeon thieves and the stolen Gundam GP02A.
Special Features: The animation shorts "the Mayfly of Space 1" and "The Mayfly of Space 2", Clean Openings, Clean Closings, and Japanese Promos.
Commentary:
In the Gundam franchise there are few series that I find above average and Stardust Memory is one of the few. There is still plenty of the over-the-top melodrama and one sided seriousness that I do have to cringe from time to time. Stardust Memory is fairly straight forward and clearly opens with the plot and development of the story.
Overall Grade: B
Without giving anything away I can honestly say that I believe that Gundam and non-Gundam fans will find this to be one of the best written series in the Universal Century saga. I can't say that the age of the series will help bring people to the table because the animation shows it age and some of the dialogue is standard Gundam diatribe.
With all of the Gundam available I would suggest seeing Char's Counter Attack before watching Stardust Memories (0083). You would at least have some understanding of what is really going on and maybe even have a little more appreciation of this series and Afterglow of Zeon.
I must admit that it great to see the Gundam universe come back to life.