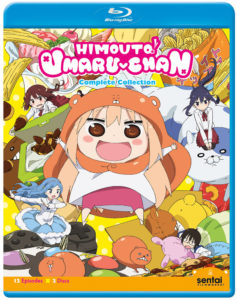 Title: Himouto! Umaru-chan on Complete Collection Blu-ray
Directed By: Masahiko Ohta
Written By: Takashi Aoshima
Music By: Yasuhiro Misawa
Studio:  Doga Kobo
U. S. Distributor: Sentai Filmworks, Section 23
U. S. Release Date: May 30th, 2017
Format: Blu-ray / 12 Episodes / 325 Minutes
Genre: Comedy, Slice of Life
Age Rating: TV 14
Overall Personal Rating: C
Synopsis: 
To her classmates, Umaru Doma appears to be the perfect girl. She's beautiful, friendly, and fashionable, earns top grades, and seems to be able to do any task asked of her with ease. She's even humble and polite! However, if Umaru's classmates could see her in the privacy of her home, they wouldn't even recognize her.
Once she's inside the door, the pretty clothes come off, the orange hamster hood goes on, and it's time to pig-out on snack foods, binge-watch television, and play violent video games! This version of Umaru is everything that the public Umaru isn't: she whines, rolls on the floor, leaves messes all over the apartment, and makes life miserable for her poor older brother, Taihei. Even the most guarded secrets have a way of being found out, and, as Umaru becomes even more obnoxious and outrageous, her two lives are bound to collide in disastrous fashion!
Commentary:
Himouto! Umaru-chan manages to prove a very painful point. That point is that being funny at other expense typically fails a being funny, it just ends up being mean in the end. I find it a sad commentary on the overall world wide society of mistreatment of others and more pointedly family has become a norm.
I did find the humor to be the change in Umaru when she walked through her front door. There is some comic relief from this childish transformation and also the direct juxtaposition of Umaru as a small child which may make her behavior a little less horrible. For me it just drives the acceptance of bad behavior.
Overall Grade: C
Even with the lack of real humor I can see why Himouto! Umaru-chan has become so popular and can't deny the overall appeal of the series.
If you are looking for a series that reinforces the new norm of bad behavior and a pure childish acceptance of someone who manages to learn how to pose and act presentable in public but treat her Brother like crap then Himouto! Umaru-chan is for you.