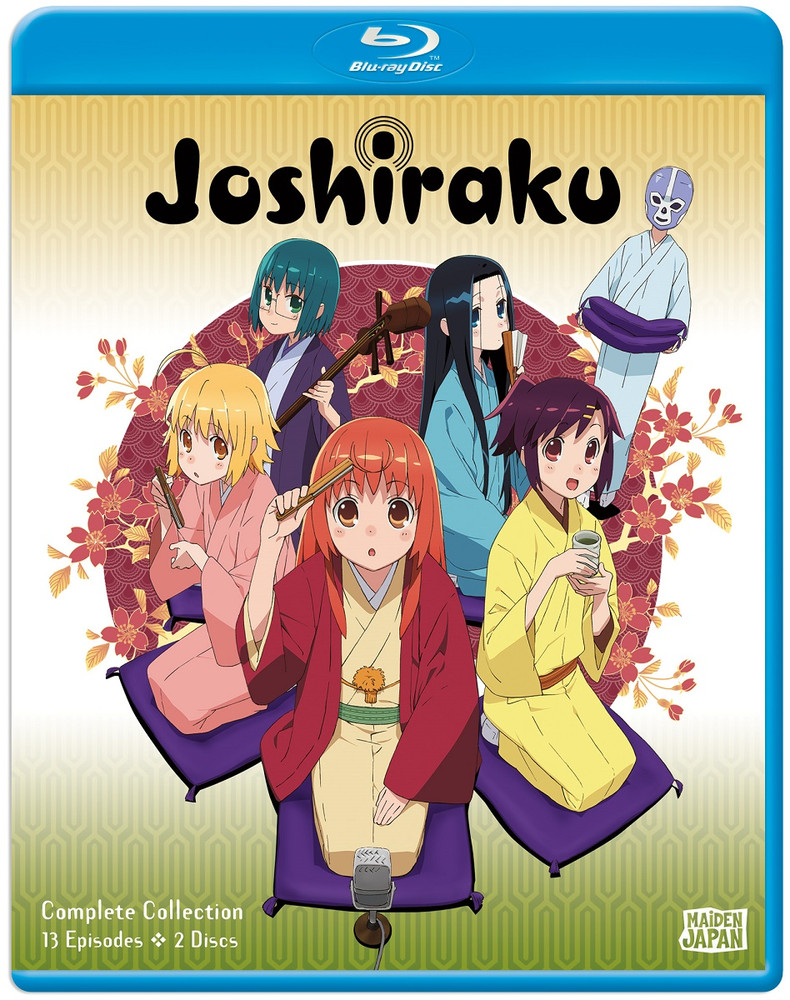 Title: Joshiraku: Complete Collection on Blu-ray
Director: Tsutomu Mizushima
Studio: J. C. Staff
U. S. Distributor: Sentai Filmworks, Section 23
U. S. Release Date: Oct. 1, 2019
Format: Blu-ray / 13 Episodes / 325 Minutes
Genre: Comedy, Slice of Life
Age Rating: TV 14
Overall Personal Rating: B+
Synopsis:
Marii, Kigurumi, Tetora, Gankyo and Kukuru are five young women with completely different interests and personalities, but there's one thing that they all share: performing Rakugo, a unique form of Japanese comic theater in which a single artist sits in front of an audience and tells an entire story, portraying multiple characters solely through changes of voice and minimal movements. It's a challenging art but all five of our heroines are determined to become the best they can… and in the meantime, they find themselves hanging out together, both at the Rakugo theaters and around town. They also have a shared acquaintance, a mysterious stranger who's always wearing a wrestling mask! What's that about? To find out, pull up a seat and watch as our heroines put on the best show in town!
Commentary:
There are plenty of anime that utilize aspects of Japanese culture as a focal point in the plot. Joshiraku takes on an obscure section of entertainment that very few Japanese even know still exsists. Raku is comedy and Joshiraku is comedy performed by women. Of course Joshiraku only uses this as a point of reference for these women to play out their bizarre antics.
The series is very episodic and only has a plot line because they use the Raku theatre as a backdrop of there conversations and musings. There are 3 topics discussed in each episode with absurd comments and visions of silliness, the the fun is watching these young women run though their realization and constant flow of energy.
Overal Grade: B+
Joshiraku is a great deal of fun to watch, but I would not recommend marathon watching. I watched several episodes at first and found it to be a bit overwhelming. When I limited myself to 2 episodes at a time I discovered the real humor and saw the fun of it all.
The animation was above average and to be expected from J. C. Staff, The writing felt more like a comedy sketch rather than a series with a plot. The point was to pose 3 simple topics and allow these young women to run through a series of stream of consciousness discussions which typically ended with little to no conclusion. It was very different from what most viewers expect from an anime and I liked it very much.
I found that I invested very little of myself in the series and that really felt good for a change. All of the characters are likable and it is all about their silliness and absurd way of thinking.
If you want to escape to a place that will leave you smiling and ready to move on then Joshiraku is for you.