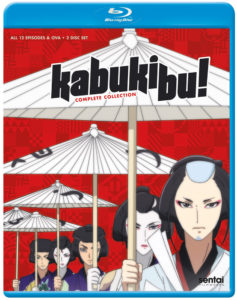 Title: Kabukibu!
Publisher: Sentai Filmworks
Director: Kazuhiro Yoneda
U. S. Release Date: June 5th, 2018
Format: Blu-ray / 13 Episodes / 325 Minutes
Genre: Drama
Age Rating: TV 14
Overall Personal Rating: B+
Kurogo Kurusu is now a high school student and the one club he passionately wants to join doesn't exist.  When he was little, his grandfather shared with him his love of Kabuki. Now, Kurogo wants to be able to share and create this theatrical art with other students at his school. He eagerly requests to form a club but the answer no. But, he delivers an inspired monologue from a famous scene. His passion was quite moving, his advisor relents, and not a club, but the kabuki "group" is granted permission form.
Kurogo along with his best friend Tondo, set out to recruit members so they can begin to create their own performances. Of course, because kabuki is an old, stiff art form, with out of date language, it doesn't really hold the young people's interest. It is so hard to follow the dialogue making it boring and even tedious. Kurogo is undeterred and sets out to find new ways to introduce his beloved kabuki to a new audience.
Commentary:
I'd definitely recommend Kabukibu. My impulse answer to why is because there wasn't anything annoying in it. At least not for me. But there is more to it than that. The main character has the effervescent, optimistic personality that reminds me of so many other characters (like in Tamako's Market, or Haikyu!) searching for a way to achieve their goal and make things better for those around them along the way.  These are the type of people who work hard to succeed for the greater good. As the viewer, I feel swept along with friends, cheering them all along the way. This is why it was an uplifting and fun anime to watch.
Kurogo is a solid and charismatic main character. He has a deep respect for the past and tradition but understands the need for things to be relevant for the modern person and even having respect for today's culture. He isn't complaining or lamenting how people now days are at a fault. He brings the past to meet the future where it is. Tondo is the arguably the Hermione (from Harry Potter) of the anime. He's the one who can find the information and make things happen.
I sure hope the information about kabuki they were teaching others was true because we were learning alongside of them. Since I enjoy learning about the Japanese culture, stemming from anime, it is really lovely to and anime that gives us more exposure to the cultural history.
The ending was satisfying, so it doesn't feel like there needs to be a second season.
Who would like this anime? I think if you enjoy the school slice of life anime where friends are interacting and living a shared story you'll like this one. I don't really categorize it as comedy, but it is light, uplifting and comfortable. Fun. Kabukibu would be good for all ages, so I would prefer that there was a dub option. Without it, the younger viewer is basically eliminated. Well, that's the way it goes, often. Anime like Aria come to mind.
Overall Grade: B+: Kabukibu is a fun and culturally interesting show. I just wish spellcheck would stop correcting the title as I write!