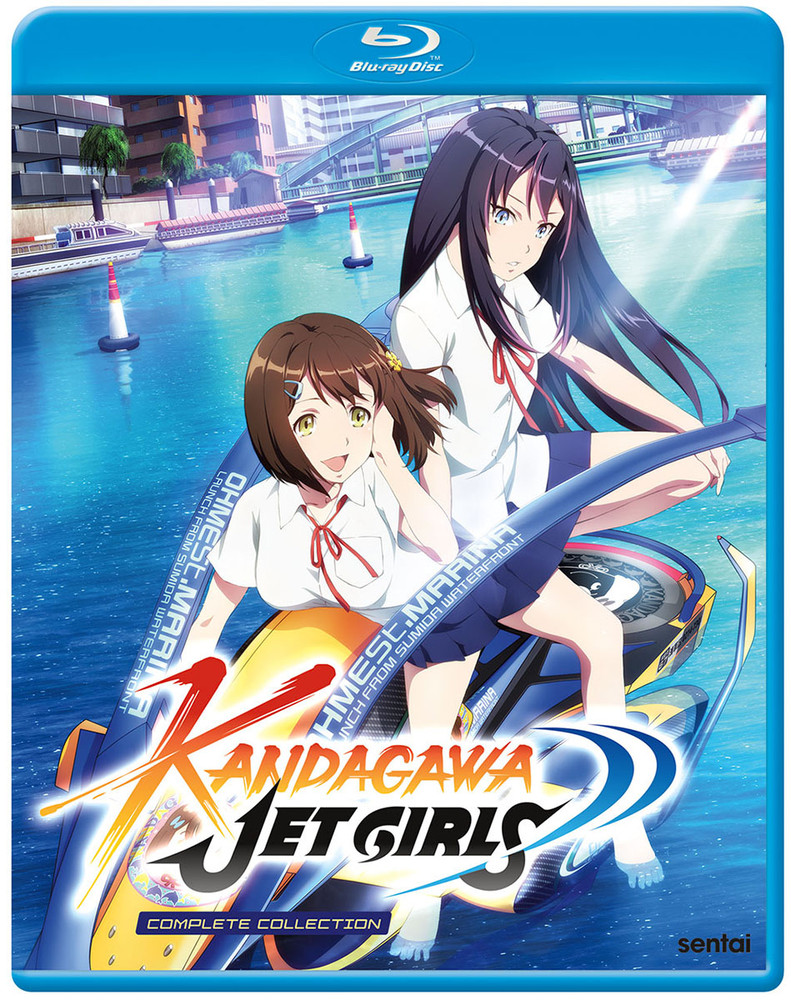 Title: Kandagawa Jet Girls: Complete Collection
Director: Hiraku Kaneko
Studio: TNK
U. S. Distributor: Sentai Filmworks, Section 23
U. S. Release Date: March 23rd, 2021
Format: Blu-ray / 325 Minutes / 12 Episodes + OVA
Genre: ecchi!, racing, slice of life
Age Rating: TV MA
Overall Rating: B-
Synopsis:
Rin Namiki's greatest ambition is to follow in her late mother's footsteps and compete in Kandagawa Jet Racing, where teams of girls on jet skis race while firing high-powered water guns to slow their competitors' jets (and blow off their clothing!). But since there's no jet racing in Rin's remote fishing village, that means moving, all by herself, to a girls' school in faraway Tokyo!
Meanwhile, Misa Aoi dreamed of becoming a great player, but those ambitions floundered until Rin transferred to her school, displaying astonishing skill for a newcomer. Is it fate? Now they "only" have to resurrect their school's Jet Riding Club, endure brutal training, and face some seriously skilled rivals… but even the toughest tasks are easier when you're doing something you love with someone who's quickly becoming far more than just a friend!
Commentary:
Well, it has been some time since I have had the opportunity to review a series that doesn't try to hide it's ecchi nature. I was a little taken aback how fast the fan service appeared and how frequently it was interjected into the plot. Once I got over the initial surprise I found it very humorous and thought about why anyone would be so blatantly sexual. Then i think back to the popularity of series like Monster Musume or Queens Blade and understand what is really going on.
As far as the story is concerned it became clear right away that this was really about the relationship between these young ladies and both their trials and tribulation. It also makes perfect sense that Kandagawa Jet Girls became a video game. The plot is simple and doesn't asked the viewer to take on any serious thought processes, it is for fun and titillation.
Overall Grade: B-
Of course I didn't expect much from the series and within the first 10 minutes I understood what the point was.
So, I wasn't disappointed or let down as the series progressed. I wasn't driven to identify with the characters, but to be honest there was solid character development and several of the characters had sympathetic natures that allowed them to be very likable. Others were just silly or too blunt to like which helps setup a decent dynamic within the plot.
The animation was not the best, it seemed as though there was only serious attention to the production style for the ecchi scenes and the rest of the series was low grade computer graphics (CG) that always leaves me cold and a little annoyed.
Overall the series was fun and light with plenty of eye candy for those ecchi lovers. If, ecchi is important then Kandagawa Jet Girls will make your day.