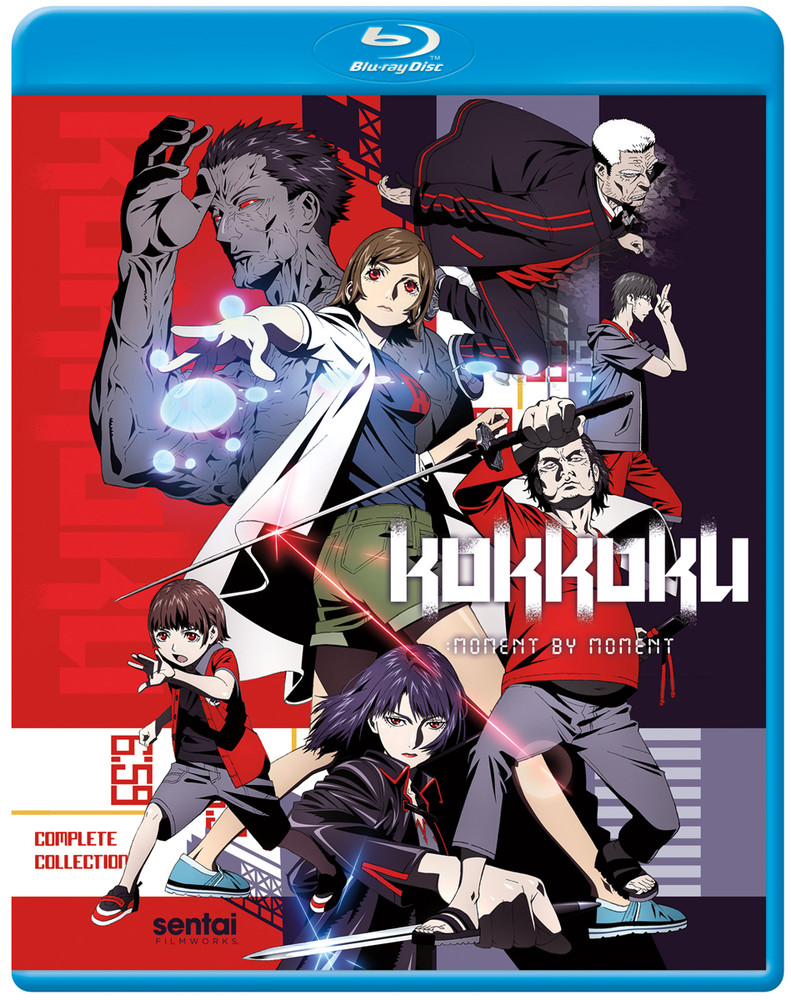 Title: Kokkoku the Complete Series
Director: Yoshimitsu Ohashi
Original Creator: Seita Horto
Screen Play: Noboru Kimura
Music by: MICHIRU
Studio: Geno Studio
U. S. Distributor: Sentai Filmworks, Section 23
U. S. Please Date: April 16th, 2019
Format: Blu-ray / 12 Episodes / 300 Minutes
Genre: Thriller, Drama, Sci Fi, Supernatural
Age Rating: MA
Overall Personal Rating: A
Synopsis:
Juri Yukawa needs a timeout from her life. She's failed 19 job interviews, she's stuck living with her crazy family, and her chances of escaping to a life of her own are becoming increasingly remote. Suddenly, all of that becomes unimportant when her brother and nephew are kidnapped and held for an impossibly high ransom. That's when Juri's grandfather reveals an incredible secret: a mystical stone that allows Juri, her father and her Grandpa to enter the state of Stasis, where everyone else in the world is frozen in time! That should make rescuing their family easy, right? Wrong, because there's a sinister organization working against them who also can literally beat the clock!
Commentary:
Every year there is typically a standout drama that captures my imagination and continues tp support my belief that the anime world has not given way to the fan service or pop idol craze. This year may not be half way through but Kokkoku is that anime so far for 2019 hard copy releases. In may ways it is sad that Amazon streaming had this one because it meant a very limited viewership. I am glad I discovered this as a hard copy blu-ray because it is a series that I will go back to over and over again as the years pass by.
Kokkoku gives us a rich imaginative world that has the confusion that our main group deals with having just learned of this strange family power and the overwhelming religious cult that has a singular mission. Each character has very unique personalities and very special roles in this story.
Overal Grade: A
Kokkoku is a shinning star in the sea if mediocre anime so far this year. I gives us a solid drama that allows the viewer to follow along and grow to like and dislike the characters as the story unfolds. I felt as though the writing and character development are the strongest part of the series. There are some very human characteristics portrayed in this group of unlikely characters. There are a few mysteries that are not fully explained but there are even more that are. This short 12 episode series does a wonderful job of giving us a complete story.
Dramas for adults are very hard to find and Kokkoku is one of the few that does not find itself pandering to overly sexualize or give us gratuitous violence just because it sells. We get to see humanity at its purest form. We have the idealist, the hard core family member and plenty of the simple minded followers that are just looking for something to gasp onto and of course we have the pure self centered greed motivated ones that look to make themself richer or more powerful among the peers.
If you are starving for a great drama? Well, Kokkoku is for you. Get ready for a interesting story that makes you want only the best outcome not looking for blood and gore or bouncing boobs in every scene.