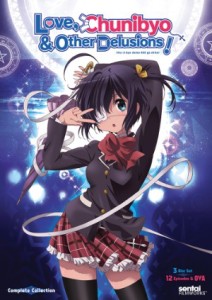 review provided by Andrew & Katie
Title: Love, Chunibyo & Other Delusions! The Complete Collection
Director: Tatsuya Ishihara
Studio: Kyoto Animation
Author: Jukki Hanada
U.S. Distributor: Sentai Filmworks / Section 23
U.S. Release Date: May 27, 2014
Format and Length: DVD / 12 Episodes + 1 OVA / 325 Minutes
Genre: Comedy, Drama, Romance, Slice of Life
Industry Age Rating: 14 and up
Overall Personal Rating: B+
Similar Series or Titles to Check Out: The Melancholy of Haruhi Suzumiya, Oreshura & Toradora!
"You and I overcame chunibyo to live out our high school days as normal students, right?"
"I guess."
"But even then, we've been trapped by this idea we made up of what a normal high school student is."
Synopsis:
Yuta Togashi has a huge problem. He is a former "chunibyo" (literal translation; Eighth Grade Syndrome) one of the thousands of Japanese students so desperate to stand out that they have literally convinced themselves that they have secret knowledge and hidden powers. However, since he is starting high school he is determined to put aside his delusions and face life head on.
The biggest problem is his upstairs neighbor, Rikka Takanashi. She is just a little bit chunibyo herself and she knows all about his hidden past. Yuta thought all his delusions were behind him and now he is not so sure. Will Yuta be able to hide his embarrassing past or will Rikka be the downfall of his normal high school career? You will have to watch Love, Chunibyo & Other Delusions! and find out!
Commentary:
As a lot of us can attest, our teenage years were hard, and we all probably have embarrassing moments we would all want to forget about. Yuta is no exception, as he goes to extreme lengths to forget his previous life as the chunibyo, Dark Flame Master. He even goes as far as transferring to a school none of his previous classmates go to, and completely leaving his previous life, in hopes for a fresh start. Unfortunately is seems that chunibyo follows him like a bad curse. Love, Chunibyo & Other Delusions! The Complete Collection follows his new life as a 'normal' teenage high school student, if there is such a thing.
All is going well, as he looks forward to leaving his embarrassing past behind, until a cute girl in cosplay, and an eye patch, falls from the sky, or at least repels from the balcony above with a rope. Meet Rikka, a first year high school student, still very deep in her chunibyo. She catches Yuta, unbeknownst to him, in one final act of chunibyo before starting his new life. Much to his shock, he finds she is in his class. And now that she knows of his chunibyo, she instantly finds him as a possible ally in the battle against the dark organization known as the Invisible Boundary Line Administration Bureau. Not only is love blind, but in this case, it's also stark raving mad.
Love, Chunibyo & Other Delusions! The Complete Collection is a must for romcom fans. Every character is likable, well developed, and brings something to the story. Yuta, the former chunibyo, looking to get away from it and to being a normal teenager. Rikka, a fully fledged chunibyo, follower of the Wicked Lord Shingan. Dekomori, the pig tailed middle school student, servant to Rikka, and wielder of the Mjolnir Hammer. Nibutani, the seemingly popular girl, cheer leader, class president, and general fantasy of all the guys, that seems to be the oddball-out in this group. And Kumin, who just wants a club she can nap in. They all bring a high level of moe, and you will quickly fall in love with them all. Watch as imaginary fights come to life, with overactive imaginations of the chunibyo. Plus you get a taste of the fascinating martial art of cooking utensils. If that's not enough for you, enter the comedy. Well thought out 4koma style gags, mocking of cultural clichés and overall random insanity assist the whole thing along. Need some drama? Well aren't you demanding… Well guess what, it has that too. There is a lot of love in this story too, so you know. How can all this work together? They did a great job of combining it all together, and giving it a balance of reality, and the fantasy of escaping reality. They also included some cultural clichés than have transcended Japan, like capcom code, role playing, slapstick comedy, and issues more serious in nature like dealing with loss and the pains of growing up. Some of us may not understand that last one, since we never actually grew up, but that's a story for another day.
Overall Love, Chunibyo & Other Delusions! The Complete Collection offers a lot, from a touching story, well developed characters, heartbreaking truths, emotions that everyone who has led a normal life can relate to, and with comedy and fantasy colliding in a massive accident, the ones you do not want to stare at, but you find you can't look away. Some of the craziest weapons you can imagine from umbrellas, to cookware, to weights on the end of long hair. Even the music is catching. There is something for everyone or everything for that someone who wants it all in a good anime.
Extras:
Love, Chunibyo & Other Delusions! The Complete Collection includes Chuni-Shorts, Japanese promos, clean opening and closing animations, and Sentai Filmworks trailers as special features. Love, Chunibyo & Other Delusions! is available is Japanese language with English Subtitles on this release.
Overall Grade: B+
Love, Chunibyo & Other Delusions! is an interesting and amazingly cute anime that is fun to watch.