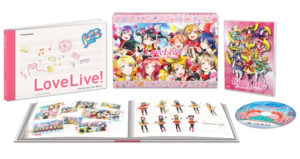 Title: Love Live! The School Idol Movie
Director: Takahiko Kyōgoku
Studio: Sunrise
U. S. Distributor: NIS America
U. S. Release Date: June 28th, 2016
Format: Blu-ray / Feature Film / 99 Minutes
Genre: Slice of Life, School Idol
Age Rating: PG (All Ages)
Overall Personal Rating: A-
Synopsis:
The long-awaited finale of the popular Love Live! series is here in Love Live! The School Idol Movie!
Although μ's, the defending champions of the school idol tournament, plans to dissolve their group after the graduation of their senior members, they receive news that leads them to holding a concert event! The 9 girls continue to learn and grow in this new and unfamiliar world. What is the last thing that these girls can do as school idols? With the clock ticking, what kind of meaning will the μ's members find in performing the most exciting live performance?
Commentary:
Love Live! is one of those series that is just so positive it is almost impossible to dislike. Love Love! The Movie didn't disappoint and tossed in some odd encounters that questions reality. Of course it does give us a true end to μ's time together, but there are glimpses of the future that might just open the door to more from the franchise.
As movies go Love Live! The Movie is better than most. More often than not movies are just silly romps that have nothing to do with the plot of the original series. In this case the original plot is at the core to the film. This concept of sticking with the original premise behind the formation of the group help make the difference for me. As just a romp off to New York to shoot a music video to help promote a Idol performance is less than exciting. It is the back story and the struggles with fame that makes things interesting.
Overall Grade: A-
Love Live! The Movie has its moments of wonderful entertainment and its moments that are nothing more than fluff. I thing that the overall story came together once they got back from New York and had a tough question to answer. I would have liked to see how others in the group dealt with the big question other than Honoka, but with her being at the center of the group it was fitting that she had the dilima thrust upon her.
Love Live! is another in a long list of girl high school series that are both easy to watch and simplistic in nature. If this is a picture of how life is in Japan then it is something that should exported everywhere.
Love Live! The Movie is a hit in my books and a great way to wrap up a series.