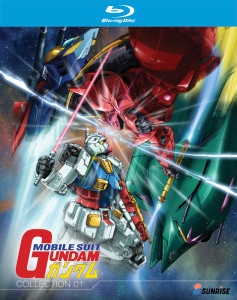 Title: Mobile Suit Gundam Collection 1 on Blu-ray
Director: Yoshiyuki Tomino
Studio: Nippon Sunrise
U. S. Distributor: Sunrise
U. S. Re-Release Date: Nov. 3rd, 2015
Format: Blu-ray / 21 Episodes / 525 Minutes
Genre: Sci Fi, Mecha, Action, Adventure
Age Rating: TV 14
Overall Personal Rating: C+
Synopsis:
Universal Century 0079. The rebel space colonies of the Principality of Zeon launch a war of independence against the Earth Federation, using humanoid fighting vehicles called mobile suits to overwhelm the Federation Forces and conquer half of Earth's surface. Months later, the Federation has finally developed its own prototype mobile suits at a remote space colony. But when the colony suffers a Zeon surprise attack, these new weapons fall into the hands of a motley crew of civilians and cadets, and fate places a youth named Amuro Ray at the controls of the white mobile suit Gundam.
Commentary: 
I am not sure how many times I have said this statement this year alone, but sometimes things are better off left in the imagination of the ones who love it. Mobile Suite Gundam Collection 1 is one of those things. The series, to put it quite simply, did not age very well. The one saving grace is that the Japanese language track is provided. I recall how I felt about Mobile Suite Gundam in my youth when it was something different in our anther simplistic world and now I can say that Mobile Suit Gundam has taken on the simplistic moniker. I find everything about it rather difficult to watch. I understand that it is being released to satisfy the hard core fans of the franchise because many of them see this particular series in the franchise as one of the best. I wish I could join that camp, but the story just doesn't do it for me.
Overall Grade: C+
On a nostalgic level I found it fun to watch and Mobile Suite Gundam provided many laughs, most not intended. The animation reminded me of bad 70's look that I didn't even like back then and the choppy writing that tells the story but in a way that is sometimes hard to follow and other times too simplistic. Deep down inside I would have loved to see this re-made with a new writing staff and contemporary animation techniques. I know that won't happen because it is too easy to just re-release it in its full original glory.
Of course I didn't think it was all bad. I still believe that Mobile Suite Gundam and a few other series set the stage for the onslaught of great Mecha series that followed and there is also a marketing machine behind the Gundam franchise that needs to be recognized for its unequaled ability to own the ability to keep the fandom alive and growing. I can't say that about other long live series. So, if you are looking for a trip down memory lane or just need to see where the craze all began then this is worth picking up or at least finding someone who dished out the cold cash and hang out at their place for a few days.