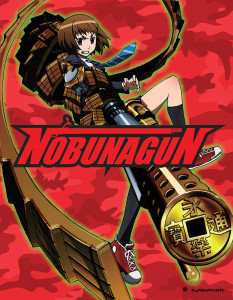 Title: Nobunagun the Complete Series
Director: Nobuhiro Kondo
Music By: Yutaka Shinya
Studio: Bridge
U. S. Distributor: Funimation Entertainment
U. S. Rlease Date: June 2nd, 2015
Format: DVD/Blu-ray/13 Episodes/ 325 Minutes
Genre: Sci Fi, Comedy, Action, Adventure
Age Rating: TV 14
Overall Personal Rating: B+
Synopsis:
Sio Ogura is a shy misfit who'd rather talk about tanks than gossip about girl stuff. She's plagued by reoccurring dreams of ancient battle scenes, and her only friend is a kindhearted popular girl named Asao. But Sio's life takes an explosive turn when a school field trip is interrupted by an outbreak of Evolutionary Invaders: hideous alien creatures hell-bent on nuking the planet. During a daring attempt to rescue Asao, Sio discovers that she's an E-Gene Holder: the reincarnation of a historical figure capable of summoning special weaponry. Possessed by the spirit of legendary warrior Oda Nobunaga, Sio joins forces with the reincarnated versions of Jack the Ripper, Galileo, and Geronimo for a high octane alien shooting spree. Survival is a longshot, but in the battle to save humanity, Sio's the girl with the biggest gun!
Commentary:
Having another Nobunaga anime coming out this year worried me especially when there is a use of other historical figures. In the case of Nobunagun I was surprised that it was both funny and action packed. I expected it to be fast and full of action, but really didn't expect the entertaining fun aspect. I also think that the writing and English dub makes a difference. Not being able to hear the different nationalities accents would make it feel like all the characters are from Japan. I'm not sure that would have given them the same feel and ended up leaving them a little flat. Of course the main character doesn't have a Japanese accent and that is a bit odd.
The art style also helps set the atmosphere for the series. It is hard edged and colorful which go really well with the plot line. There are also some overlays early on, that caught me off guard, that take on a very post modern visual language that helps define the mood and feelings of the characters. It doesn't necessarily translate well or continue through the series, but it does crop up later on as a reminder of the simpler aspects to the story in the first episode. It speaks to what the artistic staff wanted to accomplish and the fact that they didn't have as much free reign as they may have wanted.
Overall Grade: B+
I enjoyed Nobunagun for what it was. A straight up Sci Fi alien battle anime with a mix of historical characters for flair. I loved the way they married Nobunaga with a simple shy high school girl and ended up having a crazy gun wielding teen age girl with complexes.
I'm not sure how well this anime will be received because of the strange concept and also some of the animation takes you off in a odd direction. It does move fast and give you a plenty of action to fill any concept voids.
Plenty of people will enjoy this series, but I think some will be left scratching their heads wondering what is going on. I also think it could have worked on the comedic relief. There was way to much weight on just a few characters and their some what silly complexes that gave some relief but the writing just didn't hit home.
If you are looking for an action packed series that has fun with historical figures then you should check Nobunagun, but watch out for the tentacles.