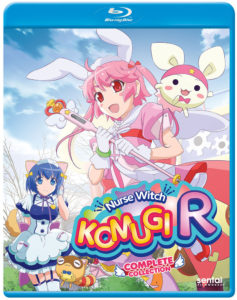 Title: Nurse Witch Komugi R on Blu-ray
Director: Keiichiro Kawaguchi
Studio: Tatsunoko Production
U. S. Distributor: Sentai Filmworks, Section 23
U. S. Release Date: May 2nd, 2017
Format: Blu-ray / 12 Episodes / 300 Minutes
Genre: Magical Girl, Comedy
Age Rating: Teen 14 +
Overall Personal Rating: B
Synopsis:
Komugi Yoshida wants to be famous, but her efforts as an idol don't seem to be working out so far. Unlike her prim friend Cocona or her tomboyish rival Tsukasa, both of whose idol popularity is soaring, Komugi seems to be getting only the bottom-tier jobs, like pitching pharmaceutical products to the locals.
However, everything changes when Komugi discovers an injured creature named Usa-P who offers her a chance to be something bigger: a magical nurse! With awesome powers and a cute outfit to boot, Komugi might just be moving up in the world, but is she going to be able to handle the stress of saving the world, being an idol, AND keeping up in school?
Commentary:
Nurse Witch Komugi R is a straight forward magical girl comedy that is clearly aimed at the younger female audience. I found the simple approach a classic style of telling the story and keeping the viewer engaged without making things overtly complex. This is a fun departure from all to many recent anime that want to make sure they keep the viewer on their toes at all times.
The character development in Nurse Witch Komugi R is also very formulaic, but it does not detract from the overall quality of the series. There is a clear development of who we need to root for and who we should be leery of.  This makes everything rather easy to get straight and to keep in order as the action heats up.
Overal Grade: B
Nurse Witch Komugi R is a wonderful little series that keeps the magical girl story alive and well. I enjoyed the way Kormugi's real life intermingled with her magical existence and the same goes for the other girls. I never got the feeling of dislike for any of them and found myself rooting for them as the series grew.
The animation is clean and suited the series well. I thought the look and feel of all of the elements played well off of each other. If there is a down side it is the simplistic approach and writing. All too often the answers were seen coming a mile away and after a while the antagonists were way too standard and a little tiresome.
If you are looking for some light fun and a magical girl seres that exemplifies the classic natures of the genre then Nurse Witch Komugi R will fit the bill.