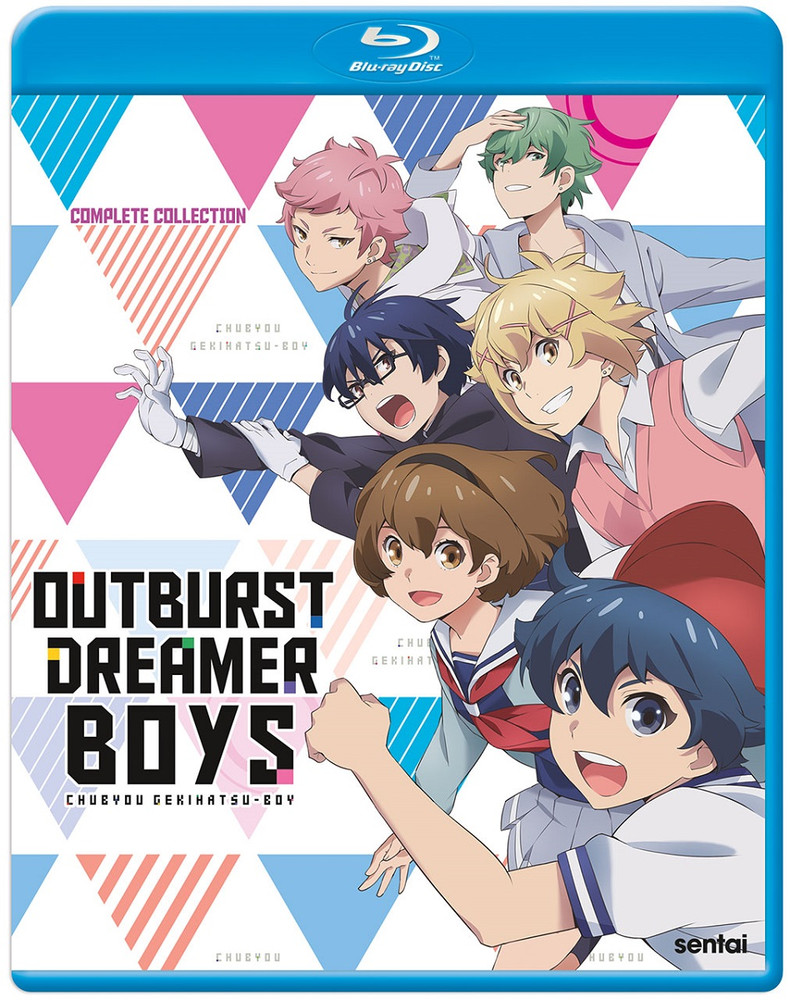 Title: Outburst Dreamer Boys: Complete Collection
Director: Kazuya Ichikawa
Studio: Studio DEEN
U. S. Distributor: Sentai Filmworks, Section 23
U. S. Release Date: December 1st, 2020
Format: Blu-ray / 11 Episodes + OVA / 300 Minutes
Genre: Comedy, Absurdity, Reverse Harem
Age Rating: TV 14+
Overall Personal Rating: A
Synopsis:
Outburst Dreamer Boys contains anime episodes 1-11, plus the Special: It's the Destiny of Those Born as Men, directed by Kazuya Ichikawa.
When Mizuki Hijiri transfers to Minikami Private High, all she wants is to blend in and study like a nice normal girl. Instead, the members of the school's "Hero Club" immediately become fixated on Mizuki, and "normal" is the last word that anyone would use to describe these delusional chunibyo, all of whom are living in fantasy worlds in which they're legendary heroes from comics and mythology!
Just dealing with the scheming and manipulative Rei Tsukumo, and Tomoki Takashima, who's only interested in 2D girls, will be difficult enough, but how can Mizuki convince Sentai-wannabe Yamato Noda that she's NOT the Pink Ranger to his Red? Toss in Kazuhiro Nakamura, who believes he's the reincarnation of a half angel/half devil and yet another member waiting in the wings, and it looks like poor Mizuki's in for a truly epic education with the Outburst Dreamer Boys!
Commentary:
Outburst Dreamer Boys is a fast paced series that has a lot of fun with the world of anime. I was very concerned that it was going to just be another silly anime that fails to provide any type of self reflection and direction. I found out early on that there is much more here than just a silly otaku spoof. This series give a positive persona of these silly boys and makes Mizuki the viewer who is given the job of being the sceptical spectator with a front row set.
I loved the way it developed and gave us a reason to like all of these characters. There are plenty of laughs while poking fun at the anime fans that drive the success of the entertainment sub genre. You get the super sentai fan, fan boy, fantasy fan, idol wantabe and the confused cat lover who can cook. It even provided a silly final OVA that manages to squeeze in both a hot springs and beach along with being another episode that deals with the core principles and plot of the series.
Overall Grade: A
The fact that it is a short series adds to its charm and the fact that it doesn't lose sight of what it is makes all the difference. Having Mizuki be at the center of the story and also being a almost passive spectator to these insane boys and their antics makes for the perfect entry point for the viewer to access the series. I feel that the writing is what makes this series a true hit. It manages to give us a look a these over the top otaku but also makes the good decent humans that only want to be a helping hand. The animation is also well done, I never felt put off by any crude or over sloppy work.
All together Outburst Dreamer Boys is a winner and if you are looking for a fun and easy series to watch with some solid laughs then this is for you.