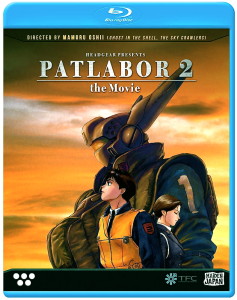 Title: Patlabor 2: The Movie on Blu-ray
Director: Mamoru Oshii
Studio: Production I. G.
Written By: Kazunori Ito
Orignal Release: August 7, 1993
U. S. Re-Release: July 21st, 2015
U. S. Distributor: Maiden Japan, Section 23
Format: Blu-ray / Feature Film / 107 Minutes
Genre: Police Drama, Mecha, Action, Suspense, Sci Fi
Age Rating: TV 14
Overall Personal Rating: A+
Synopsis:
A rogue military jet bombs a Tokyo bridge. The city is in panic. But is it a real terrorist attack, the first stage of a coup, or the opening gambit of an even more Machiavellian plot? As the military attempts to take control and Martial Law is declared, the task of untwisting the complex web of secrets, lies, and betrayals falls to the convoluted mind of Captain Kiichi Goto.
But when the Defense Forces have been turned against each other and government itself may be suspect, who can he depend on as his ground troops in a bid to pull the country back from the brink of oblivion? The men and women of the SV2 and their mobile force of Ingram patrol robots, of course.
Commentary:
Wow! Here a anime film that stands out for where awesomeness. This 1993 production shows off everything great about having a outstanding animation crew and a superior script. I have sat through this film several time and every time I am blown away by what I see.
At first blush I thought I was watching something from 2005 or later then as the story progressed I was convinced that it must have been written by a zen master. Patlabor 2 is a stand out film in the world of phycological dramas. It takes you down several paths to have you end up standing on an Island of Sea Gulls.
Overall Grade: A+
Patlabor 2 is a tour de force of both writing and anime production. From some of the simple attention to detail to the depth of each character, Patlabor 2 takes us on a ride that will not be forgotten any time soon.
With all of the tough provoking monolog to the movement of the characters while they go about their activities. We get to see it all. I must warn you that his film was produced in 1993 and even in todays standards it is a very high quality show. This may be one of the few older shows that should be reproduced on Blu-ray because of the original production quality of the film. It is awesome to see a small licenser like Maiden Japan bring this series and film back to us. It is easy to forget the past and even forget how great it was when most of what is remembered is the simple stories that we lived with in our childhood, but it is always wonderful to get a glimpse of what was at the top of the game over 20 years ago.
If you are looking for a thoughtful drama that is less about the action and more about the complexities that go on when our society appears to have lost its way, then Patlabor 2 is the one for you. Better yet, if you are just looking for a anime film that will leave you speechless then this is the one for you.