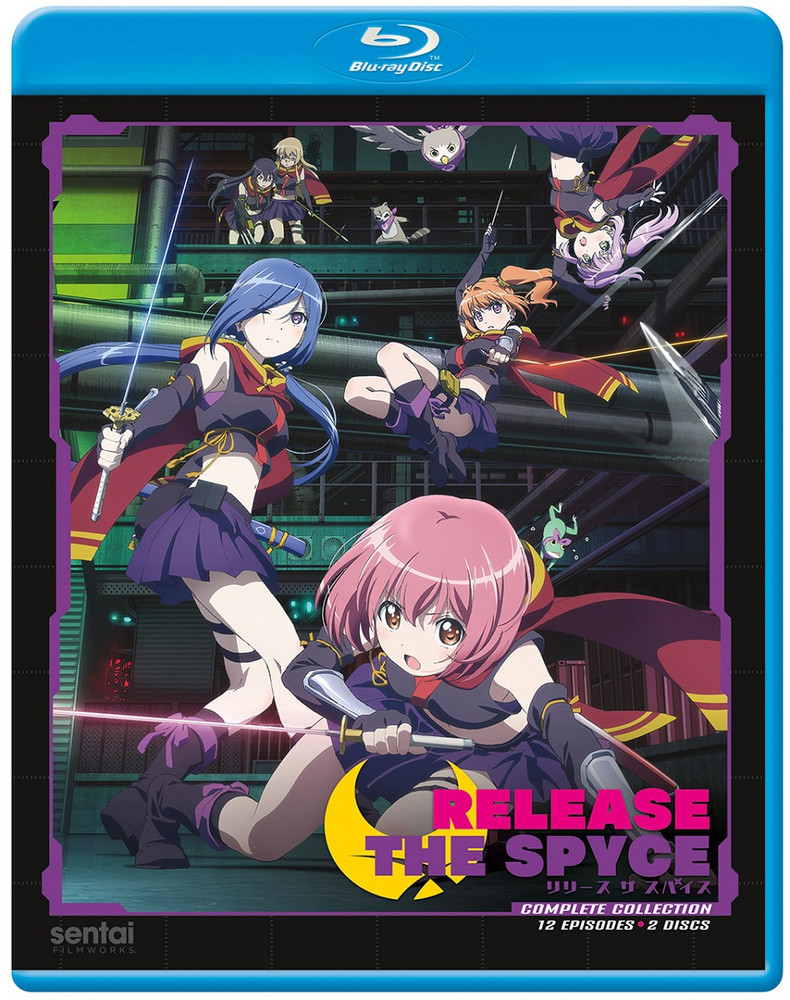 Title: Release The Spyce: Complete Collection
Directer: Akira Sato
Writer: Takahiro
Studio: Lay-duce
U. S. Distributor: Sentai Filmworks
U. S. Release Date: March 17th, 2020
Format: Blu-ray / 12 Episodes / 300 Minutes
Genre: Action, Adventure, Drama, Girl Power
Age Rating: TV 14
Overall Personal Rating: B
Synopsis:
One never knows where the forces of evil may be preparing to strike, but fortunately for the citizens of the city of Sorasaki, there is a secret group of mysterious protectors who stand ever ready to fend off the pernicious plans of sinister scoundrels, malevolent malefactors and nefarious ne'er-do-wells. But who are these heroes and how are they recruited?
Momo Minamoto is a normal high school student who dreams of one day becoming a police officer like her late father, but when she investigates the case of a missing friend, she quickly finds herself being recruited into the ranks of the Tsukikage, a group of high school girl spies with above average abilities and the ferocious fighting skills needed to take on any fiend who foments foulness and corruption! Stand back evildoers!
Commentary:
Girl Power anime can be awesome and others can be disappointing and self serving. Release The Spyce is an interesting split between that impelling series and the one that uses girl power just to grab viewers. The impelling aspect has everything to do with the way the girls weld their powers and take on the evil women they are out to stop. On the other hand the struggle that these young ladies are experiencing is a little forced and made to use these high school girls a subject of silly attraction not solid characters in this drama.
The one thing I did find entertaining about Release The Spyce is that there is some very good character development along with a reasonable twist at the end.
Overall Grade: B
There is plenty of action and some relatively solid story in Release The Spyce, but there was also a little too much girl power that missed the point of girl power. I fond it almost disappointing that several of the episodes seemed too flat and almost turned me away from the end of the series.
The animation production is solid and most of the writing is average. I clearly see why Sentai wanted to give this one a english dub, even if I think there are much better series that never had the money spent on them. Release The Spyce is just one of those middle of the road series that is neither great of bad enough to carry a large fan base.
If you like girl power anime that gives you plenty of action with a nice twist at the end then you really should give Release The Spyce a chance and be sure to get past the middle of the series, the ending is good.