Title: Di Gi Charat Ultimate Collection on Blu-ray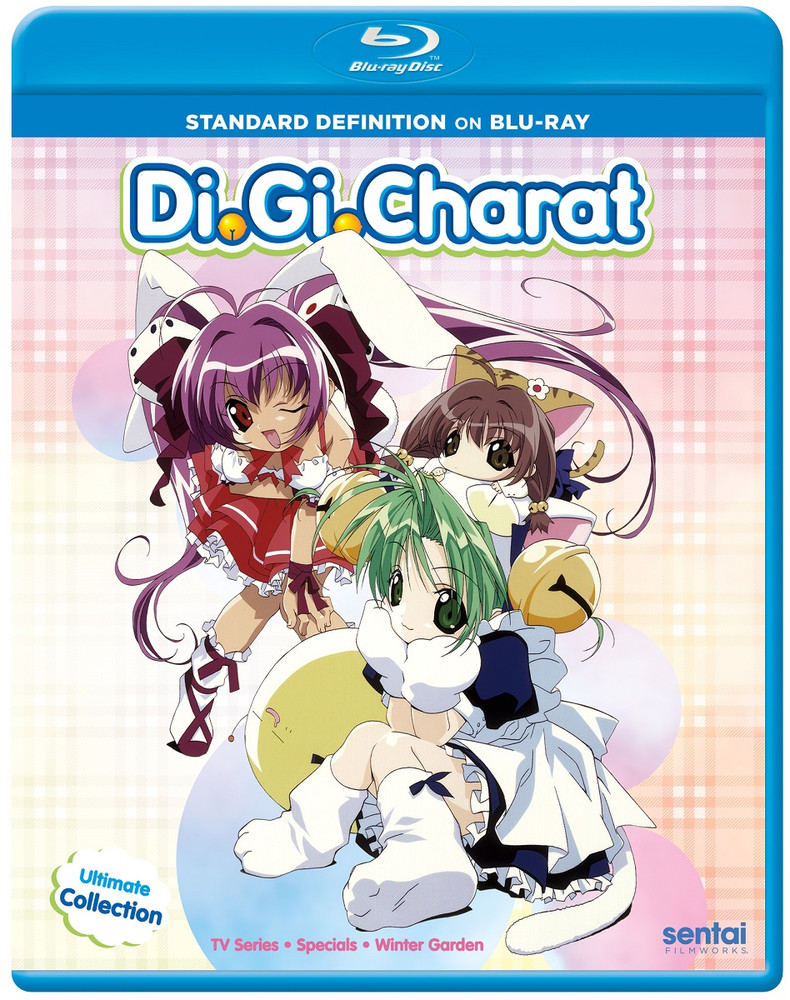 U. S. Publisher: Sentai Filmworks
U. S. Release Date: 9-17-19
Format: Blu-ray / 33 episodes / 320 Minutes
Audio Language: English or Japanese for the series, Japanese for the specials.
Genre: Comedy
Age Rating: TV PG
Overall Personal Rating: B
Synopsis:
Di Gi Charat is a collection of comedic episodes that mostly stand on their own. Basically, alien teen girls come to earth, landing in Akihabara, supposedly to be famous entertainers, but they actually end up working and living at a game store. New to the culture, they still understand most everything, but a few mistakes are made and their unique abilities cause a few odd problems. Still, they seem to know how to keep the customers in line (or at least baffled).
Commentary:
If you are looking for something light and happy to watch, and would be knowledgeable about gaming/anime references, then Di Gi Charat might be the show you are ready to binge. It is a fine diversion, silly and funny with extra helpings of cute. Don't be expecting something out of the ordinary or epic. It's just for fun.
Now, I know there is a back story of sorts, the female characters come from another planet. But there doesn't seem to be a real need for it, but I do suppose it justifies their quaint or unusual behaviors and unique abilities.
The girls are made to be a store mascot, and they do so very well. Cute, bubbly and easily recognizable with their look: outfits and especially the oversized hair ornaments/hair ties. Top marks for character design. I also enjoyed the way the people in the crowd were depicted. Hey, there is an element of truth in its near faceless portrayal.
The episodes are short, which makes the aforementioned binge watching a touch annoying with the opening song seeming to take as much time as the episode. I never timed it, but it was still annoying. Cute, but annoying… like cute often is.
Now, it is an older series, so it looks that way. The animation is dated and there is a cartoony feel to things. But that suits Di Gi Charat fine.
The disc contains a big section of OVA specials not on the main menu page. Make sure to look for them.
Overal Grade: B
Cute, funny and silly. Hey, it's a comedy. Better be in the mood for cute.