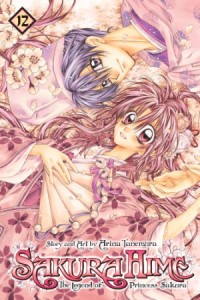 Title: Sakura Hime 12 final volume

Author/Artist: Arina Tanemura
U.S. Distributor: Viz Media
Release Date: Feb. 4, 2014
Format and Length:  manga, 216 pages
Genre: Shojo Fantasy
Industry Age Rating: T
Overall Personal Rating: B++
Synopsis:
Sakura mourns Asigiri and the others that have died. Those left around her are at a loss as to what to do. Sakura seems to be preparing herself for the final act to protect everyone  else. Rurijo takes it upon herself to confront Enju. She hasn't stopped loving him, but she is loyal to Sakura. She causes the Sword Chizakura to releases Princess Kaguya, the original founder of the country of the moon.
Now, the bonds of family are tested as the fight to save everyone and end the saga comes to a climax. Sakura is willing to sacrifice herself even if it means leaving Aoba behind.
Commentary:
Wow, there is a huge amount of events, twists and story elements . Most of it was unexpected. The final chapter was a nice touch to bring it all around to quite a satisfactory conclusion. But, I can't really discuss anything specific, because anything is potentially a spoiler. That's really why the synopsis had to be left so vague. I can say that there is plenty of action and relationship elements.
Sakura Hime has always been a visually beautiful manga and this volume even seems to go farther. I have always felt that this was its biggest strength. The images fill the pages to the edges. There is a rich use of tones and textures that I haven't seen in other manga. It is difficult to describe how pretty this manga is. Since it doesn't incorporate color, it relies heavily on incredible linear qualities and elegant, flowing lines and shapes.
As this is the final volume, there is a lot that needed to fit in which creates the most intense volume in the series with plenty of surprises and turns. This end seems well placed. The series could have stretch easily into one or two more books, but finishing now really keeps the pacing perfect, leaving the story strong, even though it's a bit sad to come to the end.
Extras: Character and story information pages. Several author's notes.
Overall Grade: B++
" In the Radius" If the look of the manga interests you, Tegami Bachi has a beautiful look along the design feeling, but the stories are very different.