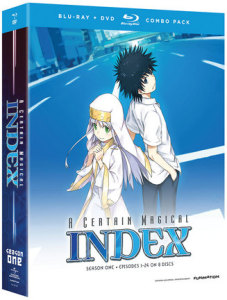 Title: A Certain Magical Index Season One
Director: Hiroshi Nishikiori
Writer: Masanao Akahoshi
Studio: J. C. Staff
U. S. Distributor: FUNimation Entertainment
U. S. Release Date: Nov. 18th
Format: DVD/ Blu-ray / 600 Minutes / 24 Episodes
Genre: Fantasy, Harem, Action, Supernatural
Age Rating: TV 14
Overall Personal Rating: B+
Synopsis:
Kamijo is a student in Academy City, where people use science to develop supernatural abilities. The guy's got a lot of heart – luckily for a young nun named Index. She's on the run from a sorcery society that covets the astonishing 103,000 volumes of magical knowledge stored in her memory.
When Index stumbles into Kamijo's life, she finds a faithful friend and protector, and while Kamijo's easily the weakest kid in Academy City, he's got something else going for him: the Imagine Breaker, an unexplainable power stored in his right hand that negates the powers of others. With scientists and sorcerers attacking from all sides, the Imagine Breaker will definitely come in handy – but it's Kamijo's loyalty to Index that will be his greatest weapon in the fight to keep her safe.
Commentary:
A Certain Magical Index is one of those Harem series that falls under a odd anti-harem frame of mind. Of course Kamijo does have his uncanny ability to collect girls, but he still stands out as less of a womans man than most male protagonist in most harem series.
The aspect of this series that stands out for me is the way that they setup the basic plot line. There is also the development of the characters. In most cases they allow the main characters to have some light or comedic aspects but as the series moves through its paces each of them become much darker and richer. In the first season the doors to the complexity of the series open and platy of questions ask left unanswered.
The animation is rather typical and not what makes the series stand out and in many ways it is average at best. The essence is the writing, which not only create several rememberable characters but also gives us a story that is strange, funny and filled with a deeply interesting sub plot that may be darker most of us may expect.
Overall Grade: B+
A Certain Magical Index season one if 24 episodes of real fun. There is a large and broad cast that is giving more and more as the series develops. It is easy to see why there was the off shoot series A Certain Scientific Railgun. A Certain Magical Index does have some rather typical harem aspects, but it seems to care more about the supernatural slant. I like Kamijo as a simple character who knows something deep about himself, but there is something very special about him that I am very interested to find out.
Come on Season 2, I'm ready. Thanks Funimation for taking season one and making it affordable.