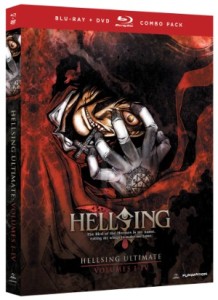 review provided by Katie and Andrew
Title: Hellsing Ultimate Volume 1
Director: Tomokazu Tokoro
U.S. Distributor: Funimation
U.S. Release Date: October 30, 2012
Format and Length: DVD/Blu-Ray Combo Pack / 180 Minutes
Genre: Action
Age Rating: 17 and up
Overall Personal Rating: A-
Similar Series or Titles: Devil May Cry, Hellsing
Can a secret organization save a country's citizens from creatures of the night?
Synopsis:
Hellsing Ultimate shows how vampires should act. They are shown to be monsters but at the same time shows how two vampires kill other vampires in order to save us humans from them. Alucard (Dracula spelled backwards) is one of the main characters in this anime. He really is an anti-hero even though he saves humans from vampires. But he is pretty awesome and can pull himself back together after a gun battle and kick butt. Sir Integra Fairbrook Wingates Hellsing, or Sir Integra, is the current leader of the Hellsing Organization. She controls her own personal army to fight against the undead and Alucard is her best vampire exterminator. Seras Victoria, or Police Girl, is Alucard's new vampire assistant. But she does not like to drink blood so she makes for a very interesting vampire.
The Hellsing Organization is based out of Great Britain. Of course, being a vampire story, the Vatican makes an appearance with their vampire killing sect named Iscariot. The Iscariot's number one vampire killer is Alexander Anderson. Now Anderson, Alucard, and Police Girl must work together to save the Empire from a satanic Nazi major who is making a ghoul army to fight against the Hellsing Organization and the Iscariot. Are Anderson and Alucard going to be able to put aside their differences and fight on the same side or is Police Girl going to have to break up fights? We shall see when Part Two of Hellsing Ultimate comes out.
Commentary:
I really did enjoy watching Hellsing Ultimate. I loved the music that was at the end of every episode as it was slightly gothic and really fit well with the vampire theme. The music at the beginning of the episodes was also interesting.
The character development was okay. I really wish that they would have expanded the background of Alucard and Sir Integra but I guess they are in the Hellsing tv series. I believe that Alucard has to be the most awesome vampire I have ever heard of. He can survive a gun fight and pull himself back together and still kill the other vampire! Sir Integra took over the family business from her uncle and has to prove to the British government that she can handle to vampire situations. The one character that I really liked was Seras Victoria. She really is the comic relief in this anime; plus she gets to shoot the really big guns so that is awesome.
There were some things that I did not understand throughout Hellsing Ultimate such as ghouls and virgins only being able to be turned into vampires. Ghouls are what happens after a vampire feeds on a human unless they are a virgin and then they are able to be turned into a vampire. That is what happened to Seras Victoria. Personally I believe that Alucard changed Seras because he was lonely and wanted someone to care about him.
The only thing that I did not care for was the animation. At times it was really rough and choppy. But then again it added to the mystery of the vampire story. My husband said that the animation reminded him of Trigun.
This anime is available in the Blu-ray Combo Pack and that includes 3 DVDs and 2 Blu-ray disks. All episodes are on the first Blu-ray disk and the extras are on the second. I believe that there are two episodes per DVD and then the final disk is the extras.
Extras:
Episode Commentary, Interviews with English Voice Director and Cast, Anime Expo 2007 English Cast Panel, Geneon Booth: Featuring Hellsing Mansion, Promotional Videos, Japanese TV Commercials, Karaoke of Major's Speech, and Trailers. Wow that is a lot of extras!
Overall Grade: A-
Hellsing Ultimate is a very gory and bloody anime. Sometimes it goes over the top but the storyline makes up for it. If there had been a little more character development I would have given an A.