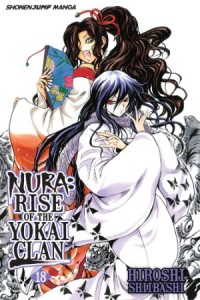 Title: Nura: Rise of the Yokai Clan volume 18
Creator: Hiroshi Shibashi
U. S. Distributor: Viz Media / Shonen Jump
U. S. Release Date: Dec. 3rd, 2013
Format: Manga / Paper Back / 192 pages
Genre: Supernatural, Action, Shonen
Age Rating: T for Teen
Overall Personal Rating: B+
Synopsis:
Harken back with us to the Golden Age of Edo, when Rikuo's father Rihan first takes control of the Nura clan. Gain new perspectives on Rikuo's family history, as well as the back story on some of your favorite devilish yokai (including that pesky Demon Lord Gorozaemon Sanmoto). Follow Rihan's second heir adventures as he learns the hard way that controlling, commanding and battling yokai is not to be taken lightly, lest you be the one who's taken.
We are also given a look at the original encounter between the 100 Story clan and gain the knowledge of why these two clans just don't get along. As Rihan takes over for the Nura clan he is very protective of Edo and both the yokai and the humans that live there. He takes exception to any intruders that wish to take advantage of the town he cares so much about.
Commentary:
As in the rest of the series we the story is put together well and follows a very solid train of thought. I was impressed at how well everything fit together and even though this is back story I found the characters to be rather well developed. As it progresses everything stays focused on the story line. If there was any weakness is was the way in which the 100 story clan was portrayed. They cam across much weaker than maybe they should have and some of the encounters seem almost too simplistic.
Other than the weak depiction of the 100 story clan volume 18 is a nice refreshing change from the rest of the series.
Overall Grade: B+
With the flashback to the previous generation we typically see a loss in focus, but with this flashback it gave us a real solid look into a history of the 100 Story Clan and the Nura Clan and why there is such a hatred. I enjoyed the depiction of Rihan and also discovering a few new tidbits about some of the other main characters of the story. For all the Nura fan I think they will be very pleased and for anyone just picking up this issue I believe that they will find it interesting enough to check out the rest of the series.
Nura: Rise of the Yokai Clan is one of the more imaginative shonen series being released in the U. S. currently. the thing about that I really like is that it blends Japanese culture together with an solid ethical story that not only carries a dramatic edge but also a plot line that moves you along with out the feeling of having been there done that or having the entire series slap you in the fase for shock value. If you are looking for a fun series that will leave you wanting for more for all the right reasons then you need to grab Nura: Rise of the Yokai Clan.