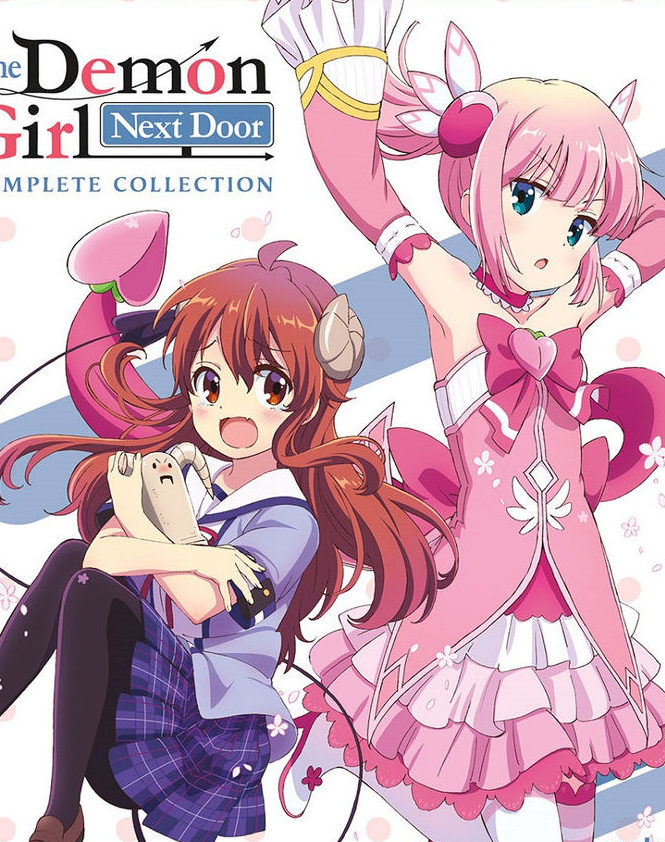 Title: The Demon Girl Next Door complete collection
Director: Atsuko Ishizuka
Original work written by: Izumo Ito
Studio: J. C. Staff
Director: Hiroaki Sakurai
U. S. Distributor: Sentai
U. S. Release Date: September 1, 2020
Format: Blu-ray / 12 Episodes / 300 Minutes
Genre: Comedy, High school Magical Girl
Age Rating: TV 14+
Overall Personal Rating: A
Synopsis:
Yuko Yoshida may be an over the top dramatic and bumbling high school girl, but when she wakes up one morning having grown horns and a tail she can rise to the challenge… or not. Her mom tells her the family history, they are descendants of a dark clan and it is now Yuko's task to restore the clans's honor. The major requirement is to defeat a magical girl. And she has to figure out how to find one.
Ok, so in the modern world a girl still needs to go to school, horns or not. As fate would have it, on the way to school, another student, Momo Chiyoda, saves the day, because she is indeed a magical girl.
With the target defined, Yuko sets herself to accomplishing the task. But wow, is she gullible and Momo is patient and very good at the art of manipulation. Stuck together in the ancient journey, the line between competitors and friends might not be as clear as expected in their intertwined (twisted) fate.
Comentary:
The Demon Girl Next Door is a comedy all the way. There is plenty of attention played to multiple layers of humor, from word choices, music, situations, reactions, characters and more. Knowledge of anime, cultural and historical concepts are helpful and will make it all the funnier, but it is not totally necessary. After all, if you seen enough of magical girls, then you would understand the humor behind theory that the more skin is exposed in a transformation outfit, the stronger the power.
The anime commonly uses naive acceptance of bizarre situations to be funny. Dry humor mixed with enthusiasm. As a example, Yuko walks into school with horns for the first time and everyone thinks it's cool or interesting. Or she admits she needs to "find and muderize a magical girl" without considering that it is weird. Yuko comes from an eternally upbeat family gone silly.
I really enjoyed the thoughtful music support. It was very well done and I encourage you to notice it now and then. It was entertaining on its own, varied and upbeat and blended with the multifarious sound effects. The piano work combined with the other instruments set the tones and scenes, and even described characters. It never fails to be a positive force in the anime.
Visually, it was also fun to watch. Plenty of color, nothing weird about the characters' looks to be distracting. There were many techniques to keep everything interesting and clever, it never felt like a short cut was taken just to get it done. The special effects did their job well to illustrate emotions or altered physical states, one of the biggest pluses in anime story telling.
It was not the solid ending I was hoping for, it was open ended as if their future goes on. Still, it was a strong ending, kind of like hope that maybe there will be another season, but just as fine if there isn't. Not everything needs to be resolved.
I found The Demon Girl Next Door to be a fun anime to watch with enough layers to make it a bit more than ordinary comedy.
Audio is English or Japanese.