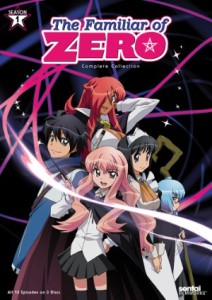 review provided by Katie and Andrew
Title: The Familiar of Zero: Season One Complete Collection
Director: Yoshiaki Iwasaki
Studio: J.C. Staff
Author: Noboru Yamaguchi
U.S. Distributor: Sentai Filmworks / Section 23
U.S. Release Date: April 8, 2014
Format and Length: DVD / 13 Episodes / 325 Minutes
Genre: Action, Adventure, Comedy, Fantasy, Magic, Romance, School, Harem
Industry Age Rating: 14 and up
Overall Personal Rating: A-
Similar Series or Titles to Check Out: Shakugan no Shana and Toradora!
Synopsis:
Louise Francoise Le Blanc de La Valliere's name is so long and her spell-casting skills are so poor that everyone at the Tristain Academy of Magic just calls her "Louise the Zero". Louise's humiliation only increases during an important second-year test, where the other students summon up mythological creatures as their familiars, and she inexplicably summons a human named Saito, a totally normal teenage boy from Tokyo. Now she's stuck with him and Saito's stuck with the lousy life of being a familiar. Except, maybe there's more going on than meets the eye, because Saito's not prepared to accept the social inequities that Louise and other aristocrats consider the status quo, and he may not be quite as normal as everyone thinks. And the reason Louise is so bad at magic might just be that she has yet to figure out what she is good at. In fact, they might even have the makings of a great team… if they can learn to stand each other first, that is!
Commentary:
When first picking up The Familiar of Zero, at first glance it doesn't look to be much more than a standard cliché love comedy, harem anime. It has all the usual suspects, and has kind of the same set up. The standard leads are the under-developed tsundere, the well endowed easy girl, the quiet bookworm that you know could kick butt if she has to, and the unsuspecting innocent girl. All these are old cliché character archetypes, all used over and over again, over many series. In all truth, these clichés hold pretty firm throughout the series. But it was not the cliché characters that made this series fun to watch, it was how well they were utilized. The first thing you will notice different from the status quo is the male lead. In most harem love comedies, the male lead is beta, shy, and socially inept, and we always wonder what the girls see in him. Saito does not properly fit that mold. He is hardly the mamma's boy we expect. He's a bit of a playboy, seems to have guts, and never backs down if he feels spited. Oh and he had no issues flirting with the ladies, a typical teenage boy, for once. Outside of that, the character development is a bit lacking. The story is based in a cliché setting, a school named Tristain Academy of Magic, seeming quite similar to a very popular children's book about a boy wizard. You know the one. Of course this looks to be a standard middle ages european style setting. And the magic is based on basic elementals, nothing new here. But all the cliché stuff hardly detracts from the series. Its strengths are the character interactions and the comedy anyway. At first you will probably watch The Familiar of Zero with a bit of reluctance, but that will all vanish quickly as the story picks up.
Louise, a member of a high ranking noble family with a history of producing powerful mages, seems to be the odd ball of the family, having little to no magical ability. As a second year student, she must, as all the others must, summon a familiar, to be a lifetime companion. She is extremely worried, because she is so inept she couldn't summon a hungry cat, standing in front of her with a piece of meat. As the others summon their familiars, she prays and cowers in fear, praying she will be able to summon anything. As she does, everyone watches in astonishment as she manages to summon a boy. A peasant boy. In a world where peasants basically are slaves to the nobility, can anything be more embarrassing than summoning a peasant boy? Anyway what is done is done, and she has to keep him. The rules forbid she do anything else. Saito, confused after being ripped from his world to this one, is quickly surprised when Louise seals the deal with a kiss. Saito is quite reluctant in his new role, as a familiar. He has no regard for the hierarchy that is in place, separating nobility from peasantry, and practically enslaving them. It does not help that Louise treats him like nothing more than a dog. Of course Saito seems to be completely useless, being a human and not a creature, he seems to have little to offer Louise as a familiar, until he insults a peer of Louise's names Guiche, and does not back down from a challenge to duel him. The comedy quickly picks up and becomes the main stable of the show. The story line does have its good points, but at times you may find it predictable. But even so, you will laugh.
Extras:
The Familiar of Zero includes extended episode previews, Japanese promos, clean opening and closing animations and Sentai trailers as special features.
Overall Grade: A-
Even with all its clichés and predictability, The Familiar of Zero, is a well done comedy. Also a quick note to Sentai Filmworks, please release the seasons that follow this one unlike the last company that released this title. We beg you.