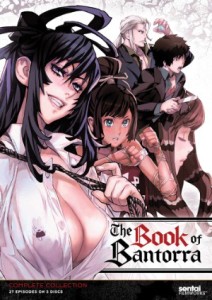 Title: The Book of Bantorra Complete Collection
Director: Toshiya Shinohara
Studio: Davis Production
U. S. Distributor: Sentai Filmworks / Section 23
U. S. Release Date: May 13th, 2014
Format: DVD / 27 Episodes / 675 Minutes
Genre: Supernatural, Drama
Overall Personal Grade: B
Synopsis:
In another time and place, on a world of pain and sorrow, when someone dies, their soul doesn't go to Heaven or Hell – it becomes a book. A book that reveals the deceased's innermost secrets… and can be read by anyone. Protecting these priceless treasures is the elite organization known as the Armed Librarians. It's their job to keep the books and the knowledge within them safe from those who would misuse or destroy them.
It's a tough, dangerous job, so Chief Librarian Hamyuts Maseta recruits only the best and the brightest psychics to join her team of expert fighters. But will they be good enough to stop the fanatics of the Shindeki Church from wrecking vengeance on the entire world? Only time will tell, but that book hasn't been written yet.
As the Shindeki Church marches forward with their plans of conquest, Hamyuts Maseta and the Armed Librarians continue to struggle against them. However, the path to victory is a long and dangerous one, and not easily navigated. Along the way, friends will be lost, new allies gained, and blood will assuredly be shed. With the whole world seemingly turned against them and the Library facing its darkest hour, does Hamyuts still have a trick or two up her sleeve?
Commentary:
If you are looking for dark action and adventure look no further, The Book of Bantorra brings it all to bare and some. From fighting epic battles to unveiling the wisdom of the ages you just don't know whats next. The high drama keeps you entertained but at the same time you get a little overload of drama. For me that is where it looses some of its luster. After a few episodes it just begins to feel way too heavy.
The animation on the other hand has a great feel for the story. It comes a cross between a steampunk world and a post apocalyptic Victorian world where people humanity has lost its way and a few powerful people are doing what ever they can to hold on to the essence of what makes us special. Thus, the drama and the over the top characters who take themselves entirely too serious. But, the look of the series fits it well.
The writing is the key to the melodrama and heavy handed characters and I guess this is where it looses me.  I do have to admit that the ending is very imaginative and helps save the series form itself, but it too comes across like a dark tale of sadness brought back by the light of true humanity.
Overall Grade: B
The Book of Bantorra is one of those series that has a lot to say and keeps you guessing all the way up until the end. Even at that point you expect the outcome to be a bit different. This consistent confusion and heavy handed melodrama keeps this series from being a great one. I am glad to see it being re-released as a single collection, I think this will help expand its appeal and hopefully bring out a few more fans. If you pick this up give it some time it will grow on you and in the end you will not be disappointed.