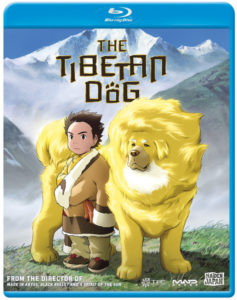 Title: The Tibetan Dog – on Blu-ray
Director: Masayuki Kojima
Studio: Madhouse
U. S. Distributor: Maiden Japan, Section 23
U. S. Release Date: July 10, 2018
Format: Blu-ray/ Feature Film/ 90 Minutes
Genre: Adventure, Chinese Tale
Age Rating: TV 14
Overall Personal Rating: B+
Synopsis: 
In The Tibetan Dog movie, life hasn't been easy for young Tianjing since his mother passed away. Forced to leave the city and move to the grasslands of Tibet where his father is the only doctor for a remote community, Tianjing finds himself becoming even more isolated as he works the lonely job of a shepherd.
It's a dangerous task as well. Wolves, packs of wild dogs and other animals prowl the countryside… something that Tianjing discovers all too soon. Fortunately, he also finds a protector and friend in a stray golden mastiff that comes to his aide. When a new menace comes to terrorize the community, both human and canine will have to protect each other. Standing against the savagery of nature and the cruelty of men, this is the story of a boy and his Tibetan Dog.
Commentary:
The Tibetan Dog is a classic story that teaches moral lessons and honors deep friendship bonds between man and animals or rather dogs. Having had a pet dog for almost 18 years I can relate to the relationship between Tianjing and his golden mastiff. Of course there is plenty of struggles and a nasty adult who is naive and stupid. Even though is is a Chinese tale it feels over much like a Disney film with all of the personal drama in Tian's life.
Overall Grade: B+
The Tibetan Dog is a simple film that tugs at our heart strings in several different ways. It also manages to roll several different tropes into the story along with reminding us how wonderfull a bond can be between a boy and a dog.
The animation production level is relatively good for this 90 minute film. It does showoff Madhouses ability to provide beautiful and following landscapes. The english voice acting is average. I didn't find anything that stood out as a solid voice performance everyone did a reasonable job. I guess the thing that lost me the most was the almost hollow feeling I got from some of the side characters. I never connected solidly with any of them.
The other thing that I found curious was the fact that this film is rated TV14 when it could have or should have been rated PG because it would be a great film for viewers under 12. Honestly, I thought it was a solid attempt to create a story that gives us those warm feelings that come with kids and pets along with the twist that are common in Japanese and Asian stories.
If you want a family friendly anime this one is for you. If you want a Studio Ghibli quality film then it doesn't quite reach those heights. I do recommend The Tibetan Dog if for no other reason that it is heart warming.