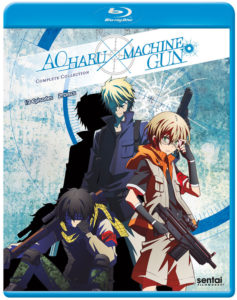 Title: Aoharu X Machinegun
Director: Hideaki Nakano
Studio: Brian's Base
U. S. Distributor: Sentai Filmworks, Section 23
U. S. Release Date: November 15th, 2016
Format: Blu-ray/13 Episodes/325 minutes
Genre: Action, Comedy
Age Rating: TV14
Overall Personal Rating: B+
Synopsis: 
When Hotaru Tachibana storms into a host club to avenge the honor of a wronged female student, the last thing Hotaru expects is to duel the club's most popular host with airsoft guns instead of fists.
When Masamune Matsuoka's experience wins out over Tachibana's brawn, he realizes that he can use his victory (and the large bill for damaging the club) to make Tachibana join his struggling Survival Gaming team. However, what ladies' man Masamune totally misses is that his unwilling new guy… isn't a guy at all!
Under the boy's clothing and strong need to defend justice, Tachibana is all-girl, but, for a number of complicated reasons, she absolutely CAN'T expose that fact to Masamune or his teammate, the erotic manga artist Toru Yukimura.
Blood will boil both on and off the airsoft arena, but it's not over until the last round is shot in AOHARU X MACHINEGUN!
Commentary:
After reading the synopsis of Aoharu X Machinegun I was sure that it was going to be a remake of Ouran Highschool Host Club but with Air Soft guns. It didn't take long for me to get past that see Aoharu X Machinegun for what it real is. It is fun to watch and engage with. This odd series gives you almost every reason to walk away, but it also manages to grab and hold your interest all the way through all 13 episodes.
There was plenty of character development, but there was plenty of questions left open at the end. Now it is very possible that a second season might show up at some time I just have a feeling that it really is complete. The way the plot developed and the ending managed to pul a few things together it still had that all too common Japanese ending. The final few episodes reminded me of how culture plays a big role in what we see and how stories play out. In the west there would have been a huge battle that ended with the underdog triumphing over the big dog and making everyone feel good and wonderful. This is not the Japanese way, there is a feel good ending, but it is much more personal.
Overall Grade: B+
Aoharu X Machinegun is a fun series that leaves you wishing you had friends like that. Of course this is anime and the real world might have been much more cruel. I think the one thing that held me back on the series is the inability to open the story up for a deeper connection between the trio.
If you are looking for a series that is just fun to watch and takes an older plot device and gives you something you didn't expect then Aoharu X Machingun is for you.