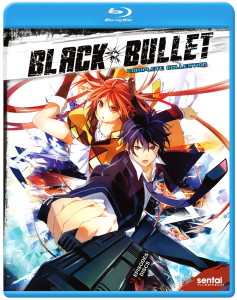 Title: Black Bullet Complete Collection
Director: Masayuki Kojima
Studio: Kinema Citrus, Orange
Creator: Shiden Kanzaki
Screenwriter: Tatsuhiko Urahata
U. S. Distributor: Sentai Filmworks, Section 23
U. S. Release Date: Oct. 27th, 2015
Format: Blu-ray or DVD / 325 Minutes / 13 Episodes
Genre: Sci Fi, Supernatural, Dystopian, Moe, Action, Adventure
Age Rating: TV MA
Overall Personal Rating: C+
Synopsis:
The Gastrea virus spreads like wildfire, causing each infected host to rapidly mutate, gaining new powers and abilities with every stage of development, even while they continue to attack, kill, and infect multiple new hosts. Unable to fight a pandemic enemy that turns defenders into adversaries, the shocked remnants of the human race are forced to retreat into cities surrounded by giant monoliths made of Varanium, one of the few materials that can stop the Gastrea.
Now mankind's last hope lies in the Cursed Children: young girls infected with the virus who have managed to retain a hold on their humanity. Paired with a partner, they alone have the strength to take on a Gastrea in one-on-one combat. But the very thing that gives them power is a ticking time bomb, so even as they protect humanity, they are also feared and shunned. Are they girls? Monsters? Or mankind's ultimate salvation?
Commentary:
Black Bullet is another of the many series that have gotten picked for the american market that have plenty of action and a edge of little girl perversion blended into a dark story of the potential end of humanity. Honesty I would love to see an anime that killed us all off. After watching Black Bullet I'm not sure if there is a reason to save us from our own self-destruction. Of course anime know only a few standard story lines and the end of humanity is at the top of the list. I guess if you want to get published then you need to give us cute young girls and a crazy dystopian future that only a few moral / righteous individuals manage to keep on the path.
I wish I could give this series more props, but it looses itself in its own vision and panders to a fan base that wants contemporary ninjas and magical young girls to save the world. If fan service is the point of the series they manage to provide plenty of nice looking women to drool over and enough young girls to make any Lolli perv happy. I just think all of that gets in the way of the story. Of course the story isn't all that new or imaginative.
Overall Grade: C+
For all that I find lacking I do have to admit that the series is compelling enough to make it worth watching. The action and plot gives any viewer enough to latch onto in order to keep them watching. The animation is fair but considering that the series was originally produced in 2011 shows that it ended up the shelves of the original network and was an easy pick up for other to produce for their markets.
I understand why Sentai spent the money on giving this series a english dub but I wish they would have saved their money and used it on something that can been seen as an artistic achievement compared to a potentially strong fan favorite.
I guess that the marketing machine wants to give the masses what they think they want and not so much the stuff that they really should see. I personally love anime for the potential for artistic expression and when I see series like Black Bullet go straight for the consumer and lack the artistic or imagination that sets great series apart from the rest I just have to tell myself that it is all part of the market and needed to keep even the weakest fans engaged.
In all fairness Black Bullet does manage to pull off a strong ending that opens up the possibilities for more to come. I should also mention that their is a moral imperative that is launched and will make anyone sit up a little straighter as they watch it.
So, if you are looking for a series with plenty of action and a lot of tough little girls then Balck Bullet is right up your ally!