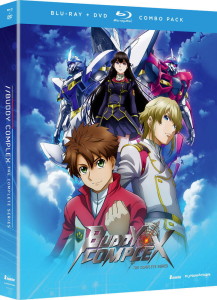 Title: Buddy Complex: The Complete Series
Director: Yashiro Tanabe
Studio: Sunrise
U. S. Distributor: Funimation Entertainment
U. S. Release Date: November 11th, 2015
Format: DVD/ Blu-ray / 13 Episodes + 2 Specials / 375 Minutes
Genre: Mecha, Sci Fi, Drama
Age Rating: TV 14
Overall Personal Rating: B+
Synopsis:
It's shaping up to be another boring day for high school student Aoba Watase until a bright light appears in the sky and a giant robot attacks the city. As the mechanical menace closes in on him, he's saved by a classmate who's piloting a mech of her own. After accepting a cryptic offer to join the alliance she's a part of, Aoba is thrust into the future where a new world war threatens to tear the planet apart. With no other choice, Aoba must pick a side, learn to pilot a mech, and fight his way through an army of enemies as he tries to find a way back to the past he left behind.
Commentary:
Going into Buddy Complex I was a little concerned that it was going to be just another Gundam want-to-be. Well, to my surprise it managed to be much more. The series started off feeling rather familiar with the innocent high school boy suddenly becomes a hero mecha pilot. I know if there is a plot line it worn out it would be this one, but in this case it becomes a rather impelling story. The key is the writing and the ability to maintain the dramatic focus of the series. The other series I would compare it to is Aldnoah.Zero, but alas it doesn't hold up to the same standards I found in that newer series. In this case I would blame that on the animation. I know that Sunrise is one of the top studios for mecha anime and I think in the case of Buddy Complex they rested on their old habits which hut more than helped.
Overall Grade: 
Buddy Complex offers a new look at an age old storyline and for all of the heavy history weighing down on it's shoulders the outcome is positive. I am not sure why Funimation opted not to dub the series, but I am glad that they didn't. I think that in this case the Japanese voice acting is so strong that I just don't see any American voice acting doing justice to the series. On the other hand I think the lack of dubbing may end up missing a very important fan base. I just don't see new younger fans taking the time to read as they watch. I know that there are still plenty out there, but they are looking for series like Danganronpa to quench their thirst.
There is something about the way the series ended that left me a little flat, but I guess that some things are always hard to Finnish off. It was easy to tell that a great deal of effort was put into the overall plot and development of the series and when trying to tie up some loose ends it can get a little messy. I don't think it really matters much, Buddy Complex is very entertaining and delivers enough drama to keep you going and at the same time provides a story that is reminiscent of older Mecha series.
If Mecha is your game then Buddy Complex is for you.