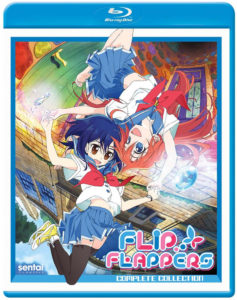 Title: Flip Flappers: Complete Collection on Blu-ray
Director: Kiyotaka Oshiyama
Writer: Yuniko Ayana
Music By: To-Mas
Studio: Studio 3Hz
U. S. Distributor: Sentai Filmworks, Section 23
U. S. Release Date: Feb. 27th, 2018
Format: Blu-ray / 13 Episodes / 325 Minutes
Genre: Magical Girl, Absurdity, Adventure, Sci Fi
Age Rating: TV 14
Overall Personal Grade: A
Synopsis:
As a middle school student, Cocona has been trying to decide what to do with her life. Magical Girl, however, wasn't a career path that she'd ever considered. When suddenly a strange girl named Papika thrusts her into a secret organization called Flip Flap, Cocona's outlook does a radical flip-flop. Her views start to change when she is dragged into an alternate dimension called Pure Illusion where she's charged with gathering crystal shards and fighting strange creatures.
Now, between running missions and facing off against a rival organization, Cocona doesn't have much time to consider alternate career choices. What are these shards, and why is gathering them so important? There's a mystery to be solved and multiple worlds to be saved!
Commentary:
Flip Flappers is another great example of the direction anime has begun to explore as we see new creative teams finding the financing to create new and imaginative series. Only 13 episodes long there is a great deal of action, weirdness and story packed into Flip Flappers. Looking at the series as a whole I can say that I see Sgt. Peppers Lonely Hearts Club Band, Fooly Cooly, Puella Madoka Magica and even Space Dandy all rolled up into it. In fact I feel as though that the list is on the short side. I would consider Flip Flappers a true post modern production the way it takes the past and manages to deconstruct so many anime and reconstructs it into a crazy series that leaves you smiling and scratching your head at the same time.
Overall Grade: A
Just the animation for Flip Flappers makes it a winner for me. With some solid absurdity and plenty of surreal surroundings take the series over the top. There are a few weaknesses and I think the the character development of Cocona and Papika could have been drawn out a little better with more hints and story development earlier on. The real meat of the series doesn't come into play until later in the story line and it would have been nice to give more glimpses of their past together before we get to episode 9/10.
I think Flip Flappers is a big surprise for the winter releases but I am afraid it will be over looked for other big name releases. So, if you are looking for a series that will keep you guessing and make you smile all the way down the rabbit hole then Flip Flappers is the series for you. It is not too often that we get treated to a new series that will blow your mind from the very beginning and keep blowing it all the way to end.