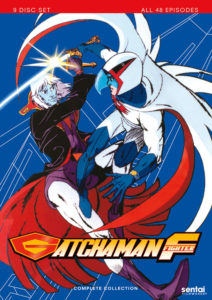 Title: Gatchaman Fighter: Complete Collection
Director: Hisayuki Toriumi
Studio: Tatsunoko Productions
U. S. Distributor: Sentai Filmworks, Section 23
U. S. Release Date: July 4th, 2017
Format: DVD / 48 Episodes / 1200 Minutes
Genre: Sci Fi, Fantasy, Action, Adventure
Age Rating: TV 13
Overall Personal Grade: C
Synopsis:
Gatchaman Fighter the complete collection contains episodes 1-48.
The fight against Leader X was finally over, but a small portion of his evil remained and regenerated into Leader Z! Now, with the aid of the monstrous Count Egobossler, the Gatchaman team's arch-foe is out to destroy the world again, and even though their ranks have been decimated, the Gatchaman force has no choice but to keep fighting. To combat their new foes, they'll need new weapons and new allies, but their mission remains the same: protect the Earth and Mankind, no matter the cost. And that cost may prove to be the ultimate one when the new Gatchafencer blade wielded by Ken turns out to be a double-edged sword. Find out who will live, who will die, and who will triumph as Japan's most famous sci-fi fighter team takes on their greatest challenge!
Commentary:
I'm not too sure that there can always be a case made to bring older anime back. It might just be a case that the cost to package and sell made it worth the trouble or someone who truly loves a series is doing in hopes to renew a fandom for a classic. Gatchaman Fighter is a vital part of the Gatchaman series, but it just might have been better off being left on the self.
I don't too many older Gatchaman (a.k.a. Battle of the Planets) fans that are still out there needing an additional Ninja Science team fix, but if there are then they will be happy to get their hands on Gatchaman Fighter.
Overall Grade: C
Not everything ages well and Gatchaman Fighter is one of those anime that just proves how much better production values have become. Unfortunately many older shows come across as campy, but this one just becomes distracting and with  secondary story and writing the 48 episodes just don't measure up.
Gatchaman fans will be after this set, I just feel like it would be few and far between that will work to show it off to a new generation. Even so, there will be more than just a few fans happy to see it.