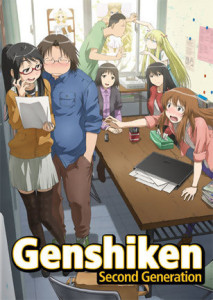 Title: Genshiken Second Generation (premium edition)
Director: Tsutomu Mizushima
Studio: Production I. G.
Original Story: Shimoku Kio
Music: Shuichiro Fukuhiro
U. S. Distributor: NIS America
U. S. Release Date: Feb. 3rd, 2015
Format: Blu-ray / 13 Episodes / 308 minuts / English Subtitles
Genre: Slice of Life, Comedy, Otaku
Age Rating: T for teen 13+
Overall Personal Rating: B+
Synopsis: 
It's a new semester at Shiiou University, and for "The Society for the Study of Modern Visual Culture," AKA Genshiken, that can only mean one thing – new freshman recruits! Originally founded as a club for otaku to discuss their unabashed love of anime, manga, and video games with one another, the current president of Genshiken, Chika Ogiue, may have bitten off more than she can chew by recruiting a bunch of yaoi-obsessed fujoshis to join their ranks!
Meanwhile, the original members of Genshiken who have since graduated find themselves coming to terms with their new lives as productive members of society.
Commentary:
Genshiken Second Generation turns the original series upside down by taking the otaku world into the 21st Century. This changes the focus on the standard old school world to the new generation of girl fans that love the yaoi. This is new newer fascination even here in the U. S., the standard yaoi fan were middle aged ladies who enjoyed the oddly erotic world created by the series. For Genshiken Second Generation the world has changed, the number of young men in the club has dwindled to 2 and one of them prefers to come to the club dressed as a cute young lady who is also into yaoi or rather BL (boys love).
This dichotomy creates most of the tension and comic relief for the show. I'm not real sure if it is the savior or the failure but it is the major focus in these 13 episodes. For me I did have an issue with the way Hato was portrayed at times. For him to work so hard at cross dressing and then to have his development end up denying his feeling and sexual orientation. Hato clearly has erotic feelings for a former male member and to have him clearly state that he is strait is almost a cruel denial of the acceptance he has been able to experience from the current a former member Genshiken. I think that if Hato's character would have come out a gay it would have added to the overall high quality of the series.
There was also another odd event in the series that put me off a little. When a older sister of one of the Genshiken member visits from America and speaks English the quality of her speech is not true to the character. She ends up sounding like a Japanese speaking English and it does not work for her characters and the involvement with the group. Actually, I really enjoyed her part and how it shook the club up, even if for a short time.
Overall Grade: B+
Even though there were a could aspects to the show that bothered me I did like the series and the way it shows how times change and genres ebb and flow, but all in all it is still fun to be an Otaku.
The quality of the animation is great and the writing was well done. Most of the characters were very well developed and easy to connect with, I liked most of them so much that I would have enjoyed being part of the club myself.
If you are familiar with the first series and connected with the club then I am sure you will connect with them in Genshiken Second Generation. There are plenty of old faces and the new members prove to be as much fun as the series offered before. So, if you are a self proclaimed Otaku then I am sure you will connect with Genshiken Second Generation.
Extras:
Even though there aren't any extras to the show to speak of the premium box set comes with an awesome book. In the past NIS America produced their books in a long thin format and now the sets come with a manga sized hard cover book that provides plenty of additional information and amazing art work. These premium sets do really make a difference and with the price of anime today it is great to get a premium that is a true premium. Thanks, NIS America!