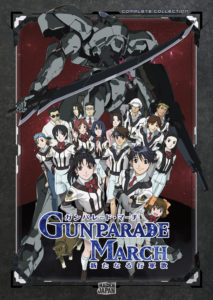 Title: Gunparade March the Complete Collection
Director: Katsushi Sakurabi
Studio: J. C. Staff
U. S. Distributor: Maiden Japan, Section 23
U. S. Release Date: Sept. 18, 2018
Format: DVD / 12 Episodes / 300 Minutes
Genre: Sci Fi, Mecha, Romance, Action
Age Rating: TV 14+
Overall Personal Rating: B
Synopsis:
In 1945, the alien invasion ended World War II and united humanity against a common enemy. Now, more than 50 years later and after countless deaths, a new group of teenagers has been drafted to train as pilots of the advanced combat mecha known as Humanoid Walking Tanks (HWTs).
For Atsushi Hayami and the rest of Unit 5121, the odds of living to see their twenties now depends on the hardened battle steel of their armor, the courage and strength of their comrades in arms, and the tactics of superior officers who see them as game pieces to be played against the Phantom Beasts. Friendships and love blossom against a battle-torn landscape, and every day is another desperate struggle to survive a seemingly endless war!
Commentary:
In the world of Mecha anime it is widely believed that Gundam and Evangelion reign supreme. I am not too sure that there are that many decent Mecha anime, but Gunparade March falls right in the sweet spot for the genre. Of course there are very few that get much more than a B rating from me. They often get overly wrapped up in their own dramatic existence. Gunparade March didn't get too lost in itself and it did provide a reasonable plot and development to keep my interest. I just had a hard time getting too sympathetic toward any of the characters and felt a little apathetic toward the entire series from time to time.
Of the main character I guess that I felt more aligned with Atsushi rather than Mia. Atsushi is a little timid and does reflect a very human ability to let his self esteem get in the way. May is way too angry and comes across stuck up. I did warm to Mai the way that Atsushi does. This relatively confused relationship adds a tension to the series, but also takes away from the real action.
Overall Grade: B
Gunparade March is an early 2000's anime that tried to play off the success of other Mecha anime like Full Metal Panic (one of my favorite) and the continual obsessed fandom of Gundam. Gunparade March does a decent job of giving us a plot that is interesting and a romance that is so awkward that it kinda works.
To be perfectly honest, I liked Gunparade March better than 90% of all of the Gundam universe but nowhere near as much as Full Metal Panic or Evangelion. It is a solid Mecha and if you enjoy these series you will be surprised how good it really is.