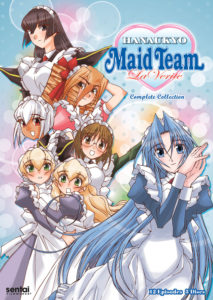 review provided by Katie and Andrew
Title: Hanaukyo Maid Team La Verite: Complete Collection
Director: Takuya Nonaka
Studio: Daume
Author: Morishige
U.S. Distributor: Sentai Filmworks / Section 23
U.S. Release Date: September 6, 2016
Format and Length: DVD / 12 Episodes / 300 Minutes
Genre: Comedy, Harem, Fan Service
Industry Age Rating: 17 and up
Overall Personal Rating: C
Similar Series or Titles to Check Out: Hayate the Combat Butler
Synopsis:
Moving is seldom easy, but when newly orphaned Taro Hanaukyo arrives in Tokyo to live with his wealthy grandfather, what he finds literally blows his mind. Because Grandpa has skipped off to a remote island, leaving his estate and its huge staff at Taro's beck and call. A staff that seems to consist entirely of maids: maids in charge of cooking, maids in charge of cleaning, maids in charge of computer programming, maids in charge of technological research and development, and, of course, maids in charge of making the garden grow.
But of course Taro doesn't just have pretty maids all in a row; he's got them in regiments and battalions! What was his grandfather thinking? And what will Taro do with them? Did we mention that he is a middle school student with otaku tendencies?
Head maid Mariel and her staff may be in for a rough period of adjustment as the new master of the house takes charge in Hanaukyo Maid Team La Verite: Complete Collection.
Commentary:
UGH, yet another anime series that had its plot ruined by fan service! Hanaukyo Maid Team La Verite: Complete Collection had a lot of promise in theory; however there was absolutely no tone or theme set up. Instead the first episode consists of bad one-liner jokes and Toro being chased around his manor by "thousands" of naked maids yelling "Toro-sama!!" and trying to smother him. This happens a couple of more times throughout the series but it just seems ridiculous. Then the plot completely flips into a sad story about Mariel, the head maid, and how her "secret" might mess up the love story between her and Toro.
There was no character development past the love story between Mariel and Toro. The only other character that was well done and added dimension to the story was Grace/Cynthia. They are the same person; just that one is awake while the other sleeps. The other characters seemed flat and took away from the scenes they were in. Sadly, Mariel's "secret" is not so much a surprise or damaging to the story as it sets up the actual story line that is completed in the last three to four episodes. And you can see it coming from a mile away.
The animation was interesting. It looked like they changed animation styles after about 7 episodes as everything turned really bubbly then. It was a little distracting because you focus more on what happened to the animation instead of what is going on in the episode. The voice actors did a good job and the music was standard, nothing stood out and I cannot really remember any of it.
Extras:
Hanaukyo Maid Team La Verite: Complete Collection includes clean opening and closing animations and Sentai Filmworks trailers as special features. This series was released with both English and Japanese with English subtitles as language options.
Overall Grade: C
Personally, I would just watch Hayate the Combat Butler instead of Hanaukyo Maid Team La Verite: Complete Collection as it is the better of the two. However, if you want to see a boy get chased around his manor by naked maids then Hanaukyo Maid Team La Verite: Complete Collection is the series for you.