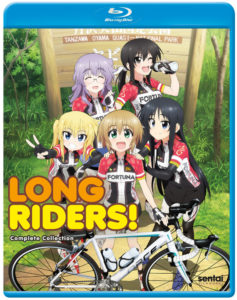 Title: Long Riders! The Complete Collection on Blu-ray
Director: Tatsuya Yoshihara
Studio: Actas
U. S. Distributor: Sentai Filmworks, Section 23
U. S. Release Date: July 17th, 2018
Format: Blu-ray / 12 Episodes / 300 Minutes
Genre: Slice of Life, Comedy, Sport
Age Rating: TV 14
Overall Personal Rating: B+
Synopsis:
Ami's always been small, a little clumsy and unsure of herself, unlike her more athletic friend Aoi. But when she sees someone using a folding bicycle on the way home from University, she realizes that the compact bike might be a perfect fit for her. Plus it's really, really cute.
Before you know it, Ami's bought her own bicycle and she and Aoi are going on biking trips together! Suddenly Ami's world is so much bigger as she and Aoi meet a whole new group of friends who share their love of this sport, and the thrill of competing in long distance cycling events. Join in the fun and share in the adventure as a group of young women discover the joy of hitting the streets and touring Japan under their own power!
Commentary:
One thing that the Japanese really know how to do is produce sweet light slice of life that manage to remind us what a perfect world might look like. Long Riders is just one of those anime. It takes a young woman who has somewhat low self-esteem and givers her something that lifts her confidence and also surrounds her with friends that either push her or judge her for being who she is. These loving friends allow her to progress at her own pace and even find ways to help her improve without making it look like they are doing anything but just being friends. This little group of friends don't seem to have a mean bone in their bodies and when it comes to Ami they want her to feel great about riding.
I know that it is just another of the many feel good anime that are produced, but after seeing so much violence and over the top fan service it sure is nice to sit down and watch a simple story about friends who enjoy the simple pleasure of riding bicycles.
Overall Grade: B+
Based on my commentary you would think that this series would earn a higher grade and typically I would have been more generous, but for Long Riders there are aspects of it that missed the mark. First of all the production values are rather cheep. When there was straight use of Computer Graphics (CG) I felt like it diminished the story because the quality was so poor. Some of the scenes looked like they were CG from 1998 to 2005. The hard edge and high contrast shadows just made everything too blocky and became a distraction rather than aid.
Most of the writing and character development was solid, but some of the story took the super easy way out and didn't help these characters develop at all. At the end of the series I felt like there was still entirely too much I still wanted to know about the group than what I learned.
With a little better animation production value and a solid character development I could see Long Riders as being a real hit rather than just a nice series. I still want to recumbent Long Riders to everyone who enjoys feel good anime and really appreciates series that support the characters rather than set them up for bitterness and anger. Long Riders is a hit in my eyes so please give it a chance I think you might feel a little better after you watch it.