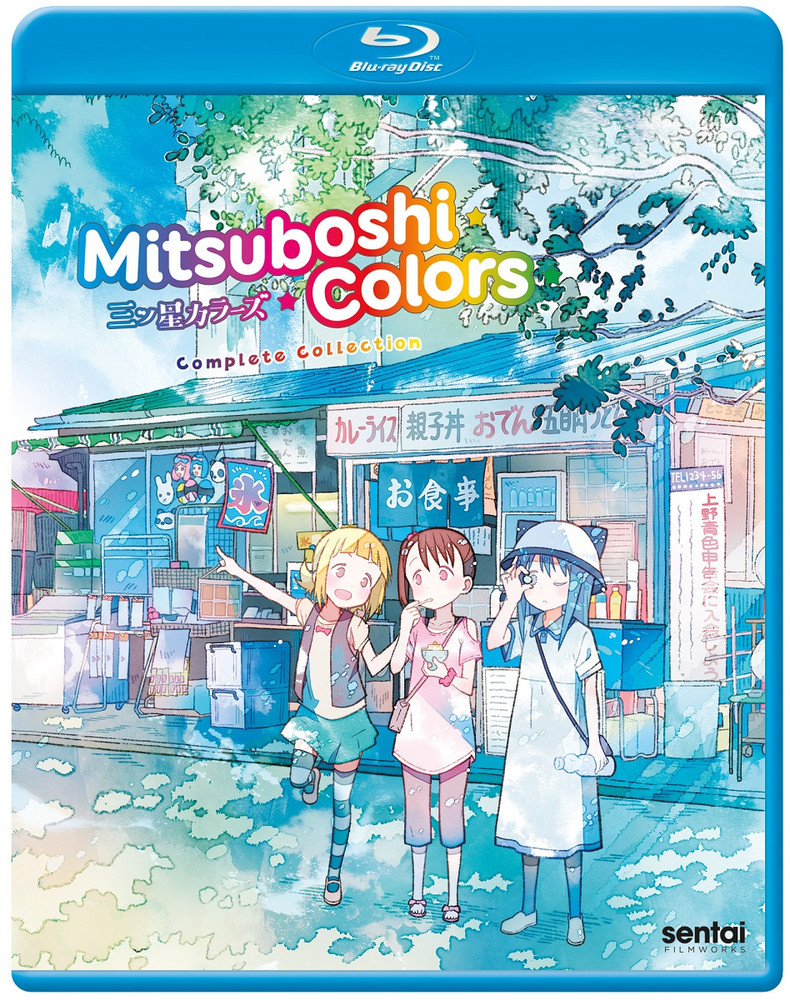 Title: Mitsuboshi Colors Complete Collection
Director: Tomoyuki Kawamura
Publisher: Sentai Filmworks
U. S. Release Date: 4-30-19
Format: Blu-ray / 12 Episodes /300 Minutes
Audio: Japanese and English
Genre: Comedy
Age Rating: TV 14
Overall Personal Rating: A-
Synopsis:
Yui, Sacchan, and Kotoha are three grade school friends. In their youthful energy and self assurance, they have formed a group called Colors making it a mission to protect the peace in their town. Yet their inherent mischief and childish logic bring distress to Saito, a local security officer.
Their peace keeping mission is a rather broad idea and (surprise) childish, but they do attempt to help by ridding the town of allergy causing pollen, find a mystical creature, solve mysteries and save the elephants.
The trio often hang out in their club house in the wooded park. Having freedom to head out on their own all over town, they stop in the small shops in the market to visit with the friends they've made. Notable is Pops a big friendly bear of a guy who gets a kick out of their antics and is often an enabler in the wacky schemes.
Commentary:
Mitsuboshi Colors is a silly anime that is endearing and fun to watch. It is all upbeat and appropriate for everyone. (Well, if you have a mischief maker who might get some new ideas, you might want to avoid it.) I'm glad anime like this is still being made and brought over. A plus is it has an English dub, opening it up to be enjoyed by younger viewers. This anime got its start as a manga series, so hopefully there is more to come.


The characters are developed enough to be fun in all their personality traits. This made it a lot of fun to watch the officer Saito have to deal with the brazen Sacchan. He didn't really see the humor in the illogical Colors the way Pops did.
Sound support for Mitsuboshi Colors was well done with all the background noises and the often subtle but relevant music. My common complaint was that some of the voices become grating with excess squeakiness.
I found the setting to be wonderfully Japanese. The girls had a childhood freedom foreign to us here. The markets, the food, the shops, the human interactions add to the interest of it all, the newness and discovery. Even with the differences, we can all connect with the spark of life, excitement and community.

Overall Grade: A-….. funny, cute, squeaky, colorful, silly, adventure, annoying, energetic, dis-logical….The annoying qualities of childhood that are essentially so silly that it elicits warm humor.